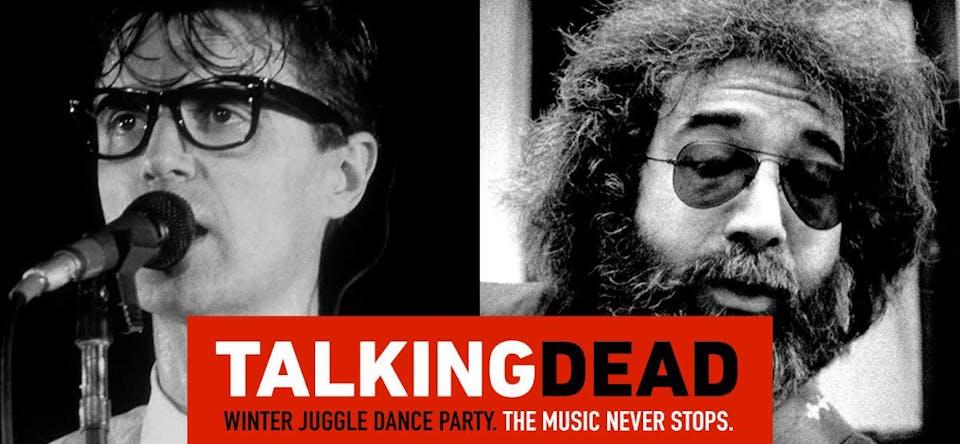 Nectar & The PBJ Present:
"TALKING DEAD" feat LDW
Garcia Birthday Band
Talking Heads and Grateful Dead tributes trade off sets all night long with no breaks... kinda like Buildings on Fire on the Mountain!
12.28 Saturday (Live Tribute)
Nectar & The PBJ Present:
"TALKING DEAD"
feat
LDW (Talking Heads)
GARCIA BIRTHDAY BAND (Grateful Dead)
$15adv / $20dos
8pm doors
21+
Nectar Lounge
412 N 36th St
www.nectarlounge.com
LDW
In the summer of 2013 a group of Portland, Oregon musicians got together around the love of Talking Heads music. Especially that of the epic 1984 concert film, Stop Making Sense, which they consider to be the most brilliant concert film of all time. They began to perform with a 7-piece lineup that was inspired by that particular movie and time period. "There was so much funkiness, movement, and excitement to the music in that movie and we just knew it would get people excited and feel fresh" says Lawrence Orleck, co-founder and singer in the band.
Audiences keep coming back to see LDW. Not only for their exuberant interpretations of the legendary Talking Heads, but also for their original music, improvisation, choreography and the random experiences they deliver at every one of their shows. In a matter of 2 years they were playing to sold out shows all over the west coast and found themselves with the question: "What's next?"
For LDW, every performance matters, and, it's that mantra, that has the band in the studio recording their first vinyl EP, Movement in a spirited manner Vol 1. "We were so inspired by playing David Byrne's music for 3 years that we found ourselves in the studio writing this EP and it just naturally fit into our set. That's our evolution and trajectory. But, yes, we still play a ton of talking heads because, plain and simple, it's fun."
The new EP is Vol 1 of a 3-part series of EP's that LDW plans to release. "The album format is so flexible these days and, frankly, a bit irrelevant so we decided to just do these two sided vinyl EP's with 4 songs each. This first one will be coming out February 2018. We named it Movement in a spirited manner because for the last 3 years we have been enthralled with the excitement and motion of our fans. They get down, big time." Lawrence muses.
"We also thought it would be an incredible adventure to put together, periodically, the actual Stop Making Sense performance. It's a concept that starts with ostensibly no stage setup and out comes David Byrne with a beatbox and and acoustic. The stage slowly builds to a full performance as the players and gear ebb onto the stage – until a mid show climax with Byrne in a giant suit. It's great fun to honor the performance that was the nucleus for this project."
The band is performing Stop Making Sense, Talking Heads, and Original Material in premier venues around the country.
GBB
Garcia Birthday Band (GBB), based in Portland Oregon, is the Pacific Northwest's premier Grateful Dead experience! Formed in 1999, GBB is a group of veteran musicians celebrating and interpreting the vast repertoire of Jerry Garcia and the Grateful Dead, and bringing to life the good ole' vibes that were contagious 'on tour' back in the day. But this isn't a "tribute band"... Drawing on decades of individual and shared experience, GBB crafts and transforms this great music into something fresh and original. Solid chops, tight arrangements and fine harmonies all contribute to the band's musical travels and explorations of one of the greatest and most diverse songbooks of all time.
Always sure to raise the roof and keep the dance floor rockin', hoppin' and shakin', the band's quickly growing fan base finds the community spirit and kind vibes contagious! Music-lovers with a wide variety of tastes enjoy GBB's extensive playlist which includes classics from Bob Dylan, Smokey Robinson, The Beatles, Johnny Cash, Chuck Berry, Jimmy Cliff, Traffic, Dr. John, Merle Haggard, The Meters, Neville Brothers, Buddy Holly, Otis Redding, James Brown, Warren Zevon, Rev. Gary Davis, Marty Robbins, Bruce Cockburn, Phish, and Peter Tosh, to name a few... No two GBB shows are ever alike and the band always strives to bring a true-to-life traditional vibe to each and every performance!
With musicians hailing from the likes of New Riders of the Purple Sage (NRPS), David Nelson Band, Kingfish, Cubensis, the Buds of May, the Ike Willis Band, Brothers Jam and LOOS3, the band is certain to provide high musical adventure!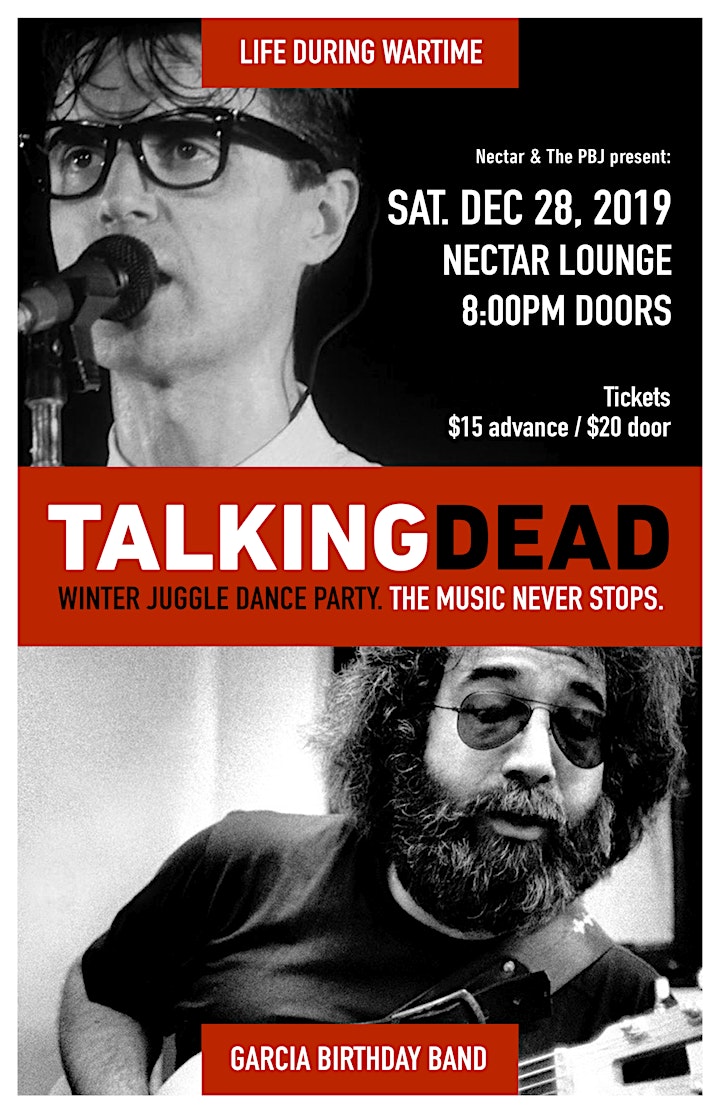 Venue Information:
Nectar Lounge
412 North 36th Street
Seattle, WA, 98103