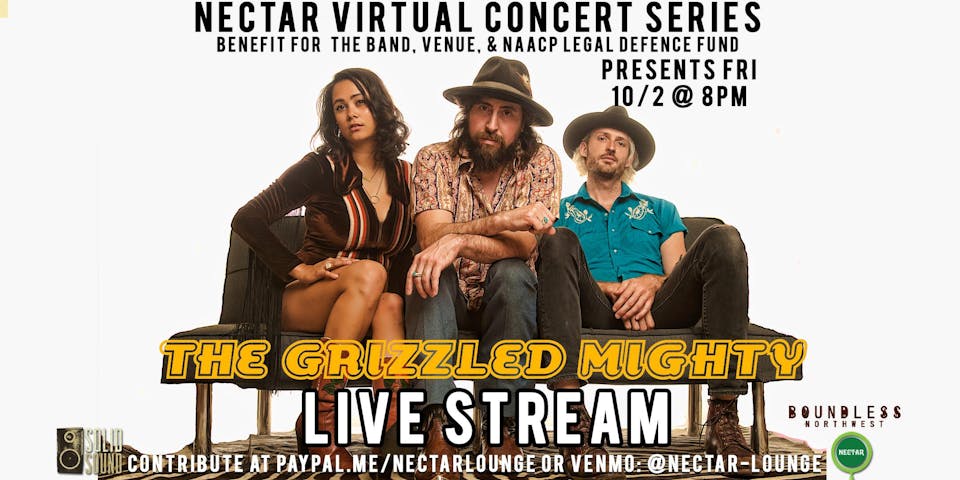 Nectar Virtual Concert Series #77 featuring THE GRIZZLED MIGHTY! "Pay What You Will" via PayPal @ paypal.me/nectarlounge
Click the "Tickets" link now to contribute!
STREAMING LIVE ON NECTAR YOUTUBE CHANNEL:
https://www.youtube.com/channel/UCV3GuytG6_IQEFe_iibgESA
10.2 Friday (Rock)
NECTAR VIRTUAL CONCERT SERIES featuring:
THE GRIZZLED MIGHTY
8:00pm PT
"Pay What You Will" Other ways to contribute are:
via PayPal @ paypal.me/nectarlounge
or via Venmo: @nectar-lounge
$10 & up Suggest Contribution (your contributions are greatly appreciated!)
Net Proceeds from contributions go to:
The Artist,
NAACP Legal Defense Fund - www.naacpldf.org
& Nectar operational expenses during COVID lockdown
------------
Streaming live via
Nectar Lounge
412 N 36th St
www.nectarlounge.com
THE GRIZZLED MIGHTY
http://www.thegrizzledmighty.com/
Welcome to the world of The Grizzled Mighty. An audio spatial concept not constricted by the limitations of fidelity, and expounds upon its quantitative capacity to the point of frenzy. A force greater than gravity, pulling you in past the event horizon to be swallowed down to the belly of compressed luminiferous aether. Inescapable and all encompassing, every electron will be sonically deconstructed only to reemerge whole again, but unsure of the existential paradox of consciousness and creation. Such as the particles of CERN, thrown together at the brink of cosmic terminal velocity, observers brace for impact and watch in awe for the creation of previously undiscovered fundamental auditory elements and dwell in the fear for what has been unlocked. The singularity of a new genesis at first exposure to the omnificent aural matrix. Embark on the next phase of sonic quantization. Embrace, harness, and transform the potential of reverberation to kinetic auricular dissociation and back again in such perpetuity that outlasts the celestial bodies that created us all. There is no beginning. There is no end. There is no escaping The Grizzled Mighty.
Ryan Granger - Vocals, Guitar
Jojo Braley - Drums
Jewel Loree- Bass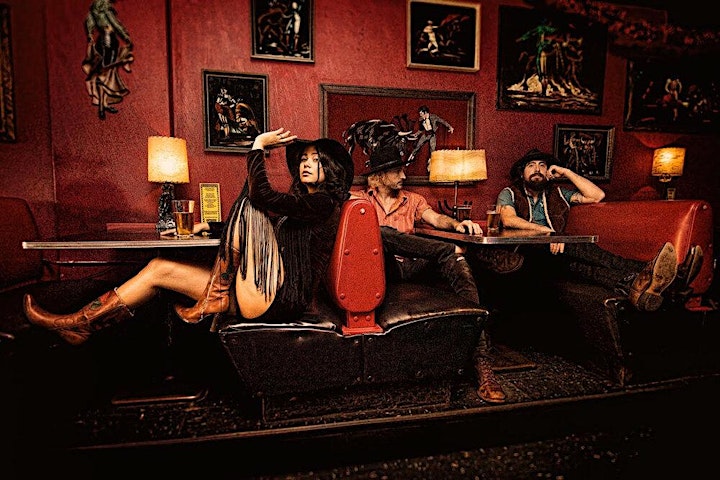 Venue Information: