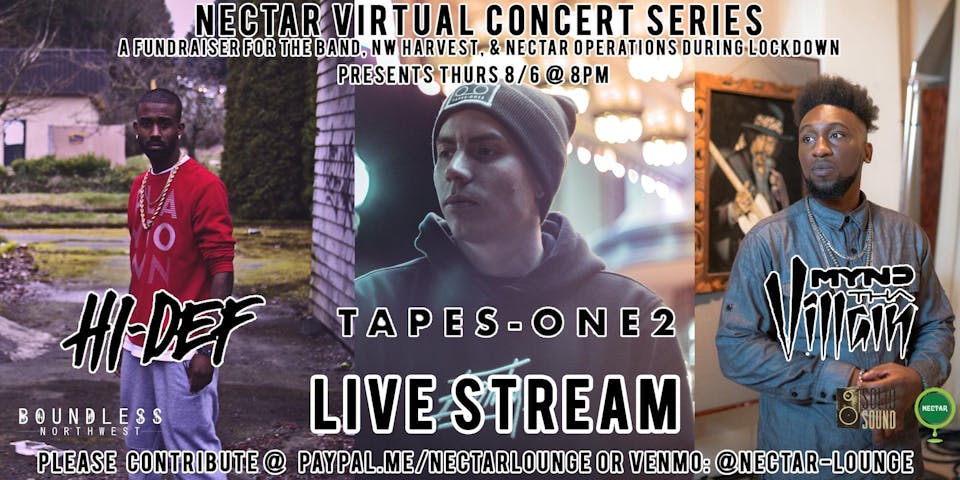 NVCS presents Tapes-One2, Mr Hi-Def, Mynd Tha Villain (Live Stream)
Mr. Hi-Def, Mynd Tha Villain
Nectar Virtual Concert Series #47 featuring Tapes-One2, Mr Hi-Def, Mynd Tha Villain! "Pay What You Will" via PayPal @ paypal.me/nectarlounge
Click the "Tickets" link now to contribute!
STREAMING LIVE ON NECTAR YOUTUBE CHANNEL:
https://www.youtube.com/channel/UCV3GuytG6_IQEFe_iibgESA
8.6 Thursday (Hip-Hop)
NECTAR VIRTUAL CONCERT SERIES featuring:
Tapes-One2, Mr Hi-Def, Mynd Tha Villian
Proceeds benefit Northwest Harvest (Food bank) & Nectar lockdown expenses.
8:00pm PT
"Pay What You Will" Other ways to contribute are:
via PayPal @ paypal.me/nectarlounge
or via Venmo: @nectar-lounge
$10 & up Suggest Contribution (your contributions are greatly appreciated!)
Net Proceeds from contributions go to:
The Artist,
Northwest Harvest - https://www.northwestharvest.org/
Nectar operational expenses during COVID lockdown
------------
Streaming live via
Nectar Lounge
412 N 36th St
www.nectarlounge.com
Tapes-One2
https://www.facebook.com/TapesOne2/
I'm a Hip-Hop artist from currently residing in Bremerton Washington. I was raised half of my life in Los Angeles\Palmdale California. I grew up listening to artist such as,"Slick Rick, Nas, DMX, Tribe Called Quest, Slum Village, Tech N9ne, Dj Premier etc." I established my name originally as a graffiti artist. I was also heavy into old school Hip-Hop at the time, so the name translated. I still do graffiti but no longer get up unless it's a legal wall. I am a 26 year old artist with plenty too offer, and there's plenty of music in the works. I thrive on creating meaningful music with substance, I like to tell a story that others can relate to.
MR HI-DEF
https://www.facebook.com/hidefmusic1/
HI-DEF is a Seattle rapper & cinematographer. Big discography. Rocked many stages. Established brand and much more.
Mynd Tha Villain
https://www.facebook.com/myndthavillainmusic/
Born & raised in the musically rich and diverse city of Seattle WA. Mynd, born Jeremy Brown, was the son of a pastor and his mother was an active member of the church choir. At 15 Mynd started writing music as a way to release built up aggression releasing a number of singles to a local audience. His interest in a wide variety of music and willingness to go against the accepted standards helped to mold his unique style of music. His hard work and dedication to his craft can be heard in every song he records. At 20 years old Mynd joined the military leaving his home and separating himself from the Seattle music scene. Now Mynd has returned with features on singles such as The Futures "Swine Flu" & "HandCrafted" Now working on his a solo mixtape featuring some of Seattle's young and upcoming lyricists Mynd is sure to bring some of the best product to come of out Seattle in years.
Venue Information: