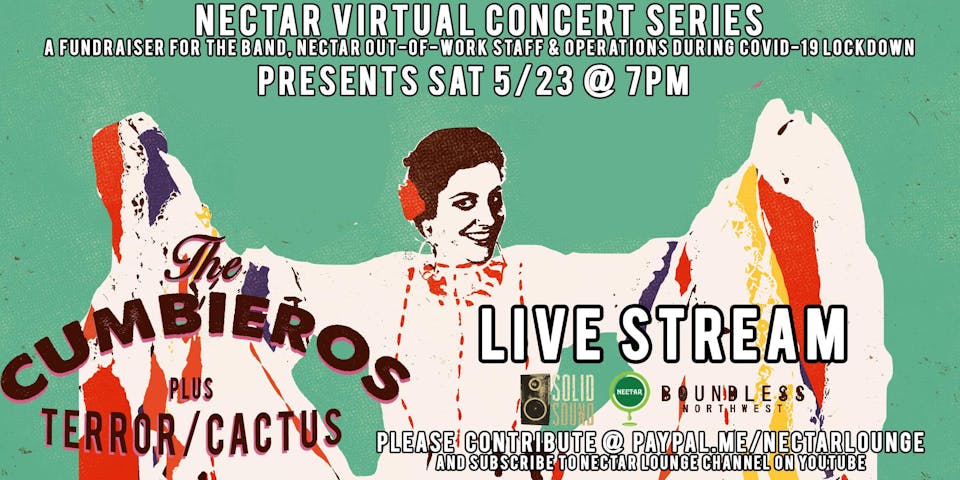 Nectar Virtual Concert Series #17 featuring THE CUMBIEROS & TERROR/CACTUS! "Pay What You Will" via PayPal @ paypal.me/nectarlounge
STREAMING LIVE ON NECTAR YOUTUBE CHANNEL:
https://www.youtube.com/channel/UCV3GuytG6_IQEFe_iibgESA
5.23 Saturday (Cumbia)
Nectar & SolidSound present:
NECTAR VIRTUAL CONCERT SERIES featuring
THE CUMBIEROS & TERROR/CACTUS
Saturday, May 23rd
7:00-9:30pm PST
"Pay What You Will" via PayPal @ paypal.me/nectarlounge
or Venmo: @nectar-lounge
$10 & up Suggest Contribution (your contributions are greatly appreciated!)
A Fundraiser for:
THE CUMBIEROS & TERROR/CACTUS
Nectar out-of-work staff
and to help keep Nectar operational thru COVID-19 lockdown
------------
It was with a heavy heart that we all had to cancel our shows, and while we'll be missing live concerts for awhile, we of course agree that it's most important to prioritize the health and safety of our community first and foremost.
Thanks for your continued support, stay safe and healthy out there, and we look forward to seeing you at this or another stream in the Nectar Virtual Concert Series, and of course at the next live concert when we reopen!
With Love,
Team Nectar & SolidSound
Streaming live via
Nectar Lounge
412 N 36th St
www.nectarlounge.com
THE CUMBIEROS
www.facebook.com/TheCumbieros/
The Cumbieros are a Seattle born multi-national cumbia band made up of talented musicians from Chile, Brazil and North America. Featuring such instruments as violin, accordion, guiro, guitar and horns, The Cumbieros fuse traditional and contemporary South American cumbia with the modern sounds of ska and rock creating fun, high-energy music that drives everyone to the dance floor. Cumbia is a genre of music/dance that originated in Colombia and is now extremely popular all across Latin America. The Cumbieros hope to spread the popularity of this music to the Pacific Northwest and beyond with one goal in mind; getting people on the dance floor. Come dance with us! EsoOOoOOoo!!
TERROR/CACTUS
www.terrorcactus.com
Terror/Cactus is the digital folklore and psychedelic electro-cumbia project of Martín Selasco. Born in Buenos Aires and raised in Miami, the Seattle-based producer draws from wide variety of Latin-American influences in his productions including Argentine folk, Peruvian chicha, and Colombian cumbia. These influences are woven into hypnotic electronic beats featuring psychedelic guitars, dub lasers, and field recordings.
Venue Information: