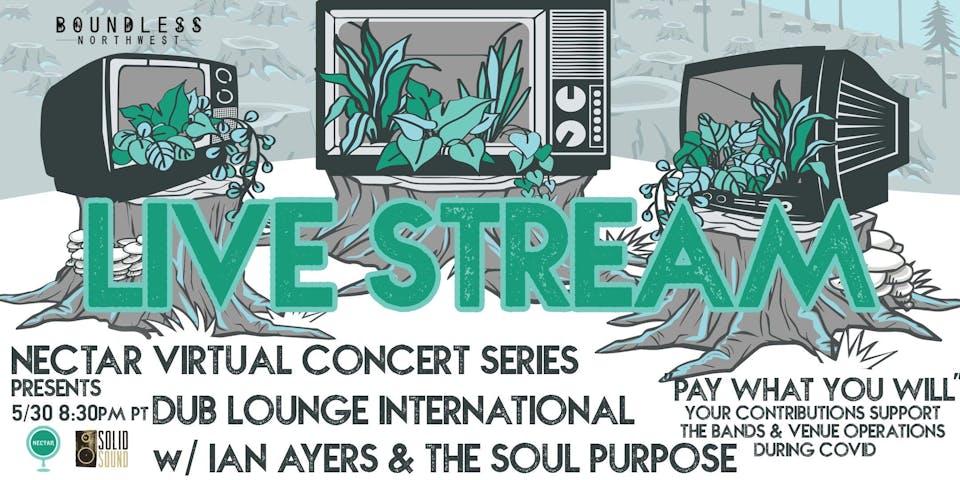 NVCS presents Dub Lounge International & Ian Ayers
Ian Ayers & The Soul Purpose
Nectar Virtual Concert Series #20 featuring Dub Lounge International & Ian Ayers! "Pay What You Will" via PayPal @ paypal.me/nectarlounge
Click the "Tickets" button now to contribute!
STREAMING LIVE ON NECTAR YOUTUBE CHANNEL:
https://www.youtube.com/channel/UCV3GuytG6_IQEFe_iibgESA
5.30 Saturday (Reggae)
Nectar & SolidSound present:
NECTAR VIRTUAL CONCERT SERIES featuring
DUB LOUNGE INTERNATIONAL
plus IAN AYERS & THE SOUL PURPOSE
Saturday, May 30th
8:30-11:00pm PST
"Pay What You Will"
Alternative ways to contribute are :
via PayPal @ paypal.me/nectarlounge
or via Venmo: @nectar-lounge
$10 & up Suggest Contribution (your contributions are greatly appreciated!)
A Fundraiser for:
The Artists
and to help keep Nectar operational thru COVID-19 lockdown
Streaming live via
Nectar Lounge
412 N 36th St
www.nectarlounge.com
------------------------
DUB LOUNGE INTERNATIONAL
https://www.facebook.com/dubloungeintl/
Dub Lounge International's (DLI) live show is as rootsy as they come. Ranging from original dancehall grooves to solid old school standards, guest vocalists are often invited to accompany their sultry 3-part harmony driven set. With a live-dub mentality, DLI empower listeners, and players alike and consider them involved in the creation of their sometime improv driven melodic meditations.
IAN AYERS & THE SOUL PURPOSE
https://www.facebook.com/ianayersandthesoulpurpose/
Ian Ayers & The Soul Purpose are a local Reggae/Soul band with a unique sound.
Venue Information: