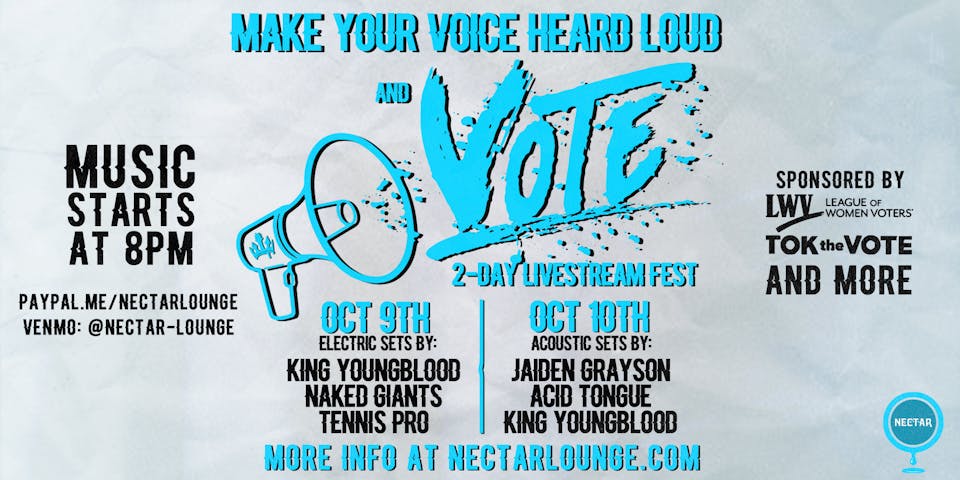 Nectar Lounge & King Youngblood present
MAKE YOUR VOICE HEARD LOUD AND VOTE! (FRIDAY 10/9 LIVE STREAM)
King Youngblood, Naked Giants, Tennis Pro
6 Seattle acts perform to help GET OUT THE VOTE! Please click the "Tickets" button and Pay What You Will. Thanks for your support and VOTE!
PLEASE SUBSCRIBE TO NECTAR YOUTUBE CHANNEL:
https://www.youtube.com/nectarlounge
and tune in for the live streams FRI 10/9 and SAT 10/10 @ 8pm PT
10.9 Friday & 10.10 Saturday (Rock)
Nectar & King Youngblood present:
with support from League of Women Voters, Tok The Vote & more
MAKE YOUR VOICE HEARD LOUD AND VOTE!
(2-day LIVE STREAM CONCERT EVENT)
NECTAR VIRTUAL CONCERT SERIES #80-81 featuring
Friday, October 9th @8pm PT (ELECTRIC SETS)
KING YOUNGBLOOD
NAKED GIANTS
TENNIS PRO
Saturday, October 10th @8pm PT (ACOUSTIC SETS)
JAIDEN GRAYSON
ACID TONGUE
KING YOUNGBLOOD
"Pay What You Will" ($10 & up suggested per day)
1. Click "tickets" button and contribute any amount you'd like!
2. or contribute via https://www.paypal.me/nectarlounge
3. or send via Venmo: @nectar-lounge
NVCS supports the musicians, MYVHLAV (a nonprofit associated with Allied Arts Foundation), and Nectar operations during COVID-19 lockdown. Your contributions are greatly appreciated!
In cooperation with:
The Washington Bus
League of Women Voters
Tok The Vote
Founded in 2007, The Washington Bus is a statewide movement-building organization that engages young people in the civic process. We focus our resources on empowering young people of color, LGBTQIA+ youth, first generation college students, and young people from working class and immigrant communities. To lead the Washington Bus is to be at the forefront of moving our political process into a more inclusive and equitable space. The Bus drives up to the edges of the known civic engagement map and then goes beyond by activating our generation through education, civic participation, and hands-on democracy, and work to put the young people most often excluded from the political process at its center.
Nectar Virtual Concert Series (NVCS) is produced using the pro venue sound, lights and stage at Nectar Lounge, an independent music venue forced to shut down in mid-March due to the Coronavirus pandemic. The artists perform in an empty venue with no actual audience and are instead filmed with multiple camera angles and broadcast out to a live virtual audience across various platforms. The live streams are presented at no cost, and fans are encouraged to "Pay-What-You-Will" with contributions supporting the artists, venue, and various nonprofit social causes.
***Keeping performers and limited crew safe is the #1 priority and we have a series of ground rules that require strict adherence as prerequisite to proceeding with each of these performances. We limit the people in the building to the absolute minimum of essential workforce only and have measures in place to promote social distancing before, during, and after performances. Self-reporting and temperature taking is a mandatory request to ensure nobody is symptomatic. Musicians are encouraged to wear masks while not performing. We do sanitize equipment after each performance, and do not allow sharing of microphones. Hand sanitizer is available throughout and of course we encourage hand hygiene, while discouraging any/all contact between individuals, face touching, etc and prohibiting close contact between crew and performers.***
------------
It was with a heavy heart that we had to cancel our shows and we hope that NVCS brings fans some much needed entertainment during these challenging times!
Thanks for your continued support, stay safe and healthy out there, and we look forward to seeing you at this or another stream in the Nectar Virtual Concert Series, and of course at the next live concert when we reopen!
With Love,
Team Nectar
Streaming live via
Nectar Lounge
412 N 36th St
www.nectarlounge.com
Venue Information: