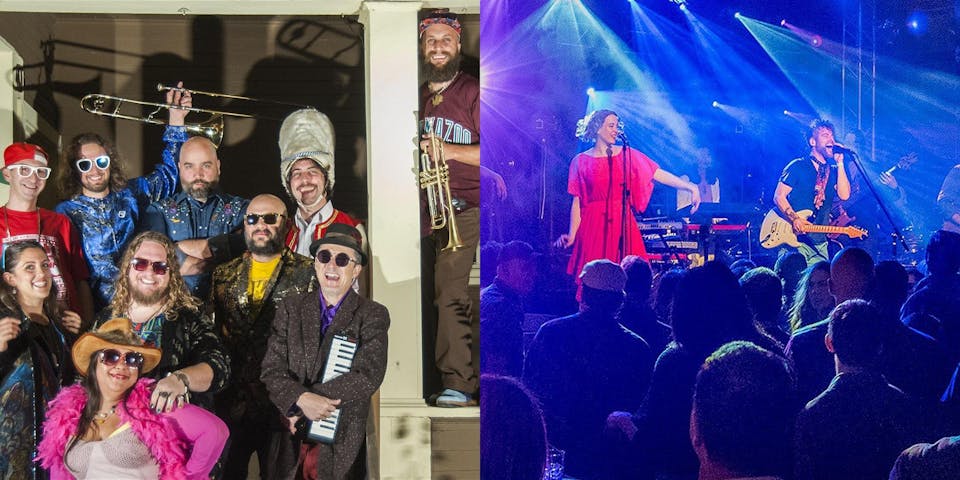 Nectar & The PBJ Present:
ELDRIDGE GRAVY & THE COURT SUPREME
LDW (Talking Heads Tribute)
$18.00 - $22.00
Cancelled
It's a party with Seattle's premiere 12pc funk juggernaut Eldridge Gravy & The Court Supreme joined by Portland's Talking Heads tribute LDW!
8.22 Saturday (Funk Party)
Nectar & The PBJ Present:
ELDRIDGE GRAVY & THE COURT SUPREME
with LDW (Talking Heads Tribute)
$18adv / $22dos
8pm doors
9pm show
21+
Nectar Lounge
412 N 36th St
www.nectarlounge.com
ELDRIDGE GRAVY & THE COURT SUPREME
ELDRIDGE GRAVY & THE COURT SUPREME is a funk juggernaut. Backed by the hot, gritty orchestration of the 13 member Court Supreme, front man Eldridge Gravy easily works dance floors to a fever pitch with his full-bore performance and smooth rapport with the audience.
In 2017, the group released their self-titled fourth studio album. Recorded by Jason Gray of Polyrhythmics & Blue Mallard Studios, mixed by Floyd Reitsma at Studio Litho.
Over the past few years EG&tCS have headlined practically every prestigious venue in Seattle and Portland, including Crocodile, Neumos, Tractor Tavern, Showbox, Doug Fir Lounge, and Star Theater. They have also ruthlessly funked thousands of festivalgoers at Bumbershoot, the Waterfront Blues Festival in Portland, and July 4th at Gasworks Park.
LDW (Talking Heads Tribute)
In the summer of 2013 a group of Portland, Oregon musicians got together around the love of Talking Heads music. Especially that of the epic 1984 concert film, Stop Making Sense, which they consider to be the most brilliant concert film of all time. They began to perform with a 7-piece lineup that was inspired by that particular movie and time period. "There was so much funkiness, movement, and excitement to the music in that movie and we just knew it would get people excited and feel fresh" says Lawrence Orleck, co-founder and singer in the band.
Audiences keep coming back to see LDW. Not only for their exuberant interpretations of the legendary Talking Heads, but also for their original music, improvisation, choreography and the random experiences they deliver at every one of their shows. In a matter of 2 years they were playing to sold out shows all over the west coast and found themselves with the question: "What's next?"
The upcoming Album – Movement in a spirited manner
For LDW, every performance matters, and, it's that mantra, that has the band in the studio recording their first album, Movement in a spirited manner. "We were so inspired by playing David Byrne's music for 3 years that we found ourselves in the studio writing this album and it just naturally fit into our set. That's our evolution and trajectory. But, yes, we still play a ton of talking heads because, plain and simple, it's fun." We named it Movement in a spirited manner because for the last 3 years we have been enthralled with the excitement and motion of our fans. They get down, big time." Lawrence muses.
Venue Information:
Nectar Lounge
412 North 36th Street
Seattle, WA, 98103