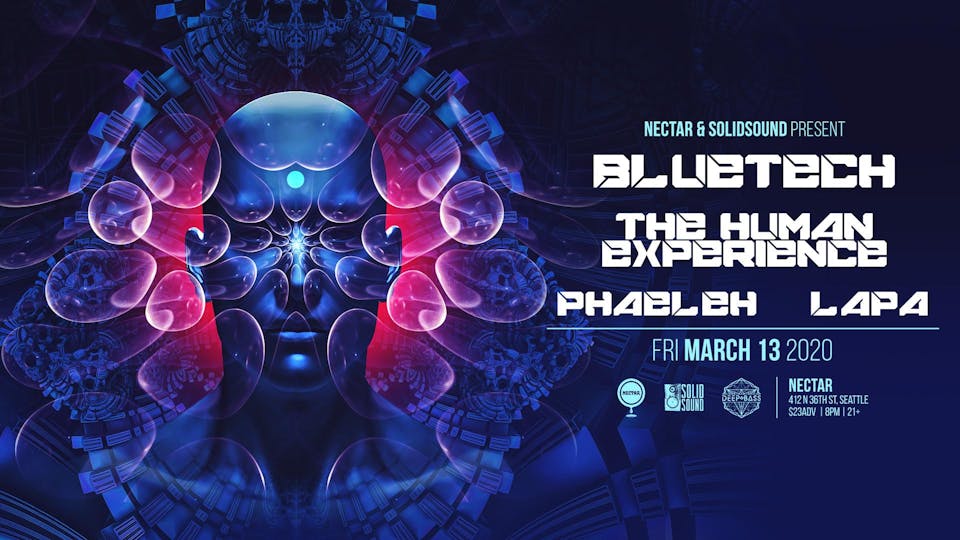 Bluetech and The Human Experience hit Nectar Lounge this March! Tickets on sale now.
Due to circumstances beyond our control, this event is cancelled. Tickets will be refunded at point of purchase. Online ticket holders will be automatically processed within a few business days. We apologize for the inconvenience.
3.13 Friday (Electronic)
Nectar & SolidSound present:
BLUETECH
THE HUMAN EXPERIENCE
Phaeleh
Lapa
$23adv,
8pm, 21+
Nectar Lounge
412 N 36th St
www.nectarlounge.com
BLUETECH
Evan Bartholomew has been performing electronic music for nearly 20 years as Bluetech, Evan Marc and Invisible Allies (with Kilowatts).
As an an internationally recognized touring music producer with over 27 album / EP releases and a seasoned portfolio of video game and film scoring credits, Bluetech is a master of analog and modular sound synthesis and DSP audio manipulation. He brings a passion for sound design and cutting edge audio exploration into all the work he touches. His music transcends the constructs normally associated with a calculated "electronic artist," pursuing music with meaning and purpose with downtempo, future bass and progressive electronic music, rife with emotional intent and poly-rhythmic percussion.
Bluetech began his training as a classically trained pianist at a young age, and has explored his craft as a DJ, musician, film composer, record producer and label owner. His work has evolved to include his roots in classical composition and ear for nomadic harmonic progressions and a deep awareness of music as a kinetic force with body moving beat mechanics.
Working as a solo artist, as well as a producer, he has written scores for film & television (CSI: Miami, Scared Sacred, Occupy Love, Albedo Absolute, various television commercials), video games (Comet Crash 2 – forthcoming PS4) and virtual reality installations (MicrodoseVR). In addition to music, Evan has established a reputation as an accomplished graphic designer, illustrator, and 3D animator through both his personal work and commissions for clients (Microsoft, Austin City Limited, City Of Seattle). Bluetech has toured extensively throughout the U.S. and internationally, having shared stages with such acts as The Glitch Mob, The Orb, Bassnectar, Ott, Juno Reactor and many more.
Bluetech's latest album "4 Horsemen of the Electrocalypse: The Black Horse" is an analog and modular based composition, in the same vein that he explored with his previous two albums "The Red Horse" and "The White Horse," both released in 2016. Ranging from dark Detroit influenced electro, synthfunk, to more melodic techno explorations, this release pushes forward Bluetech's unique analog based approach to sound and music production.
THE HUMAN EXPERIENCE
"David's music is the soundtrack to my soul." – Zan Roberts
"THE HUMAN EXPERIENCE" is David Block's principal project as a live electronic composer, multi-instrumentalist, and producer. Listeners experience a delicious symphonic blend of prismatic soundscapes and sultry beats.
David is constantly pushing the boundaries of live electronic music. Playing, composing, and conducting his own electronic symphony live on stage, his performances are brimming and layered with human emotion, world exploration, and sacred sounds. Whether performing by himself, or with a live band, "The Human Experience" always delivers an emotionally charged show.
"The Human Experience" aims to cross cultural barriers through music. David has collaborated with artists all over the world including Rising Appalachia, Ignacio Perez (Buena Vista Social Club), William Close (The Earth Harp), Random Rab, Elephant Revival and many others.
Each song is a sonic journey; interweaving psychedelic layers of melody and harmony with organic grooves and international vibes.
Composing and performing live with the Audio/Visual/Dance projects "Phadroid" (Android Jones + Phaedra), "Quixotic", "Lucent Dossier", and "Seraphim" David is expanding his sounds into the mixed media world.David has performed all over the world sharing the stage with renowned artists such as The Roots, Thievery Corporation, Bonobo, Tipper, Emancipator, The Polish Ambassador, and many more.
Over the last several years he has toured in UK, Europe, Russia, Israel, Central America, Canada, and all over the United States at a variety of events including festivals like Burning Man, Boom, Coachella, Electric Forest, Wakarusa, Lightning in a Bottle, Sonic Bloom, Symbiosis, and Envision.
His music has been featured on NBC prime time TV and is beginning to make its way into the world of cinema.David is consistently redefining himself as an artist, performer, and human being. Moving and traveling around the world, meeting people from all walks of life and realms of consciousness, he is continually learning, growing, and sharing inspiration with those around him.
"We don't play music, music plays us" – David Block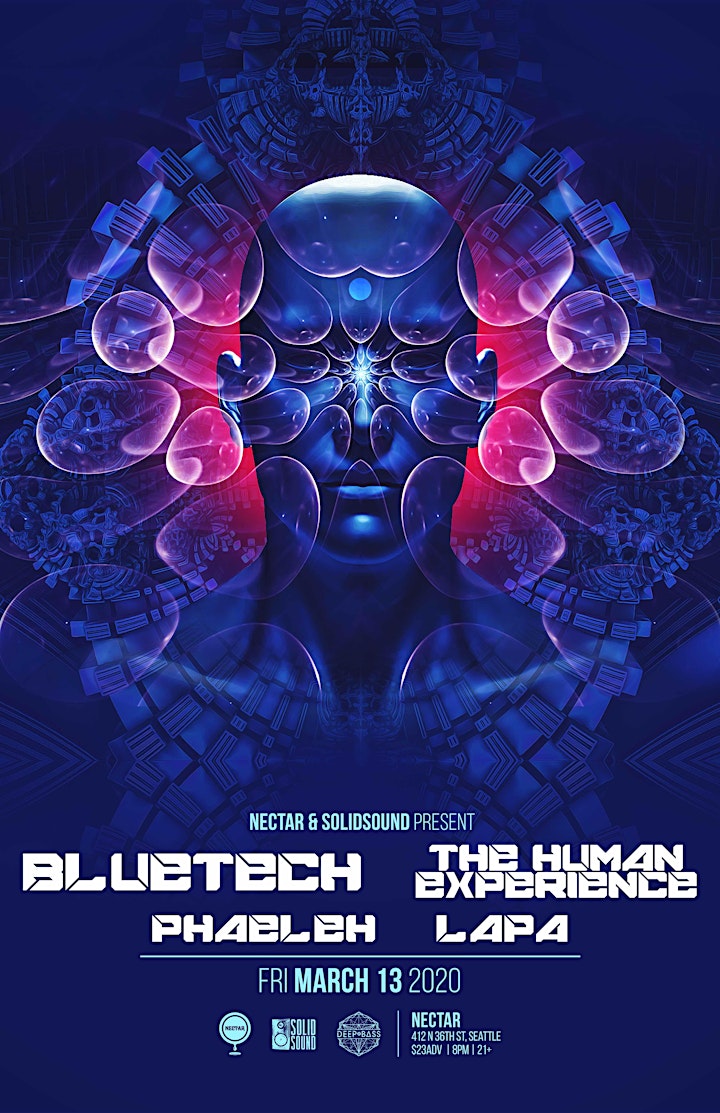 Venue Information:
Nectar Lounge
412 North 36th Street
Seattle, WA, 98103