Don't miss this killer pairing of up & coming national, regional, and local jambands complete with a laser light show! Get tickets today!
3.21 Saturday (Jamband / Funk / Rock)
Nectar & The PBJ Present:
AQUEOUS
CYTRUS
Onion The Man
$14adv / $18dos
8pm doors
8:30pm show
21+
Nectar Lounge
412 N 36th St
www.nectarlounge.com
AQUEOUS
After forming in Buffalo in 2006, Aqueous (pronounced "ay-kwee-us") has earned a reputation as one of the most promising improvisational rock acts in the country. Best known for their "groove rock" stylings, guitarist Mike Gantzer, guitarist/keyboardist David Loss, bassist Evan McPhaden, and drummer Rob Houk have developed a unique sound characterized by meticulous compositions and rich exploratory jams that easily transition from laidback, in-the-pocket grooves to furious, high-intensity peaks. Composed of longtime friends, over the years, Aqueous' members have developed near-psychic abilities with one another, enabling them to stretch each song while maintaining a staggering degree of precision. In a live setting, the group's undeniable technical prowess truly shines, making for dynamic performances that bring fans back night after night.
Whether they're headlining and selling out venues across the U.S. or performing stand-out sets at notable events like Summer Camp, The Peach Music Festival, Jam Cruise, and Suwannee Hulaween, it's clear that fans across the country are clamoring to hear more from the Buffalo-based four-piece. With the hype around the group growing, Aqueous is making a huge breakout as the project enters its second decade of existence. Do yourself a favor, and discover firsthand what the buzz is all about.
CYTRUS
Shaped by Jared Squires (guitar), Jeran Plumacher (drums), Luke Nevills (bass/keys), Brandon Hailey (saxophone), Owen Mayo (guitar/keys), Trevor Church (drums), Alex Dean (synth/keys), and Sean Connelly (vocals/keys), Cytrus' eight-piece funk-driven fusion makes a place at the table for everyone, offering a psychedelic pallet of funk, disco, electronic, rock, neo-soul, hip-hop, and more. The Seattle-based band is personalized by its juicy synths, bass-induced grooves, and cinematic live performances. However, the group is best known for their flowing transitions in variety, consistently sonic wall of sound, and undeniable chemistry.
In their short time together, Cytrus has witnessed massive growth within itself and the surrounding community. Originally founded as a four-piece in early 2018 under the cover of HopSol, the 'couple buds' quickly began to absorb additional musicians before joining forces with a group formerly known as Bunk Foss. As a bi-product, the eight-piece has begun to build a dedicated fan base in the Northwest and beyond, co-hosting multiple sold out events throughout Western Washington and becoming a go-to act for promoters throughout the region. The merge sparked a turning point in the band's sound, energy, and presence, ergo giving Cytrus its newfound name.
The Onion Man
Psychedelic grooves ooze from the depths of their hot souls. Raw shallot force energy merges to create the layered vibrations that is Onion The Man. Residing in the northern realms of Oregon, four passionate artists birth, break, and surf the wave of contagious groove through melodic texture, rhythmic harmony, and musical empowerment. Riding the mothership upward and onward, the Onion family tours all over the west coast and organizes Onion Music Festival annually for the sake of bringing all paths of life together in the name of personal expression and humanity.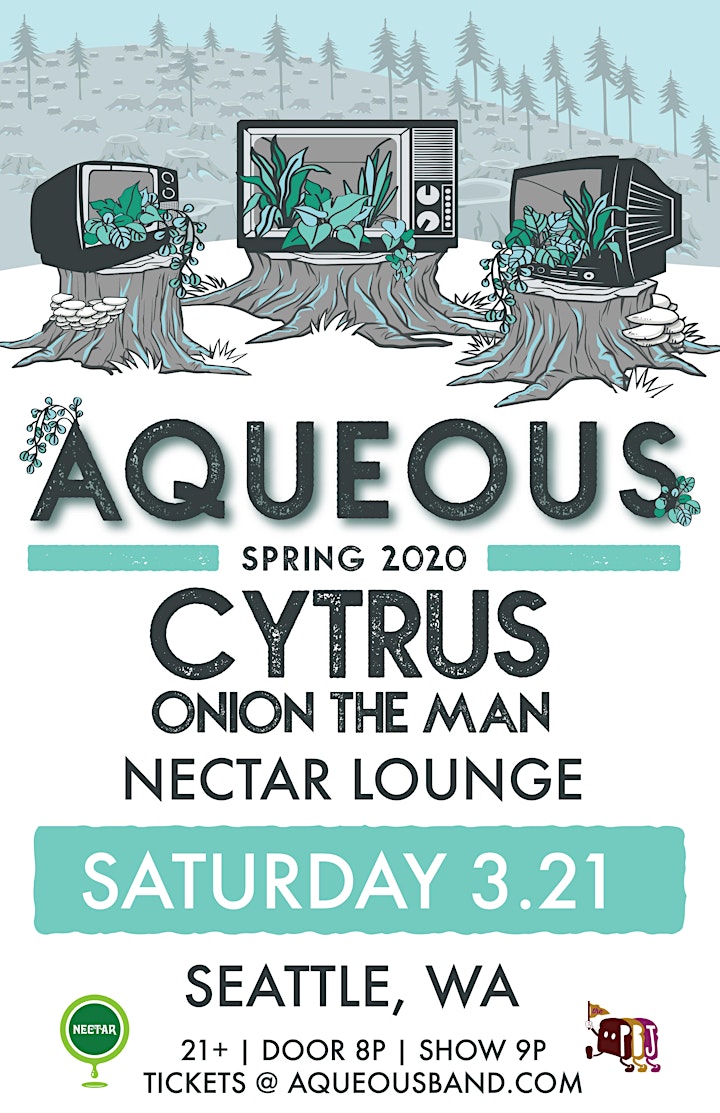 Venue Information:
Nectar Lounge
412 North 36th Street
Seattle, WA, 98103