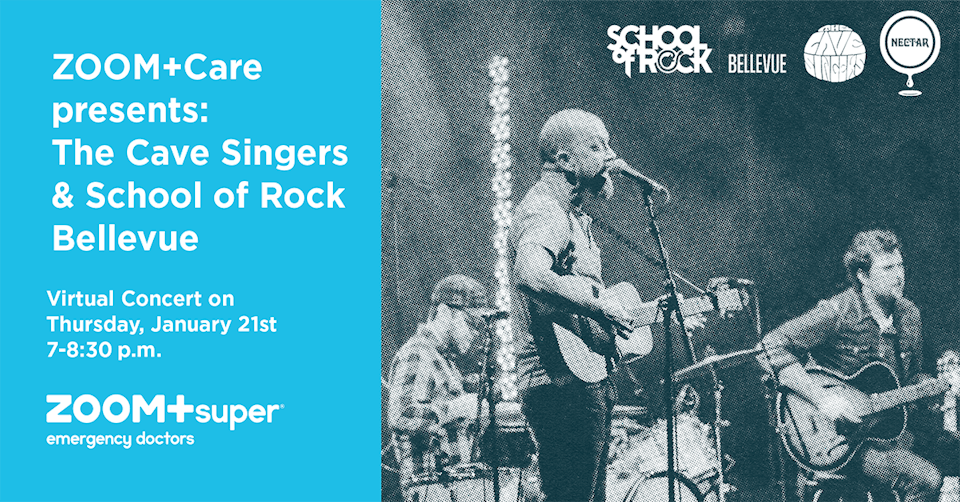 ZOOM+Care presents THE CAVE SINGERS with SCHOOL OF ROCK (Live Stream)
A special virtual concert featuring THE CAVE SINGERS & SCHOOL OF ROCK celebrating the opening of the new ZOOM+Super Bellevue location.
Did 2020 have you missing live music? We feel the same way. That's what we're partnering with ZOOM+Care to bring you a virtual concert by Seattle favorites The Cave Singers and the School of Rock Bellevue. This special event celebrates the grand opening of ZOOM+Care's new Bellevue Super Clinic, and will stream live from The Nectar Lounge.
Catch the show on our YouTube channel and Facebook page from 7-8:30 pm PST on the night of January 21st.
We hope to see you there!
About ZOOM+Super:
Have you ever needed more than urgent care, but you weren't sure if you needed the emergency room? Enter ZOOM+Super—ZOOM+Care's affordable ER alternative.
ZOOM+Super was born from a desire to bridge the gap between the ER and an urgent care clinic. Staffed with board-certified emergency physicians, Super can treat 80% of the reasons adults and kids go to the emergency room, including bone fractures, abdominal pain, and early pregnancy complications, and more. But here's the best part: compared to the ER, ZOOM+Super has lower costs, shorter wait times, and absolutely no facility fees.
When it's serious but non-life-threatening, skip the ER and choose ZOOM+Super instead. Learn more at www.zoomcare.com
STREAMING LIVE ON NECTAR YOUTUBE CHANNEL:
https://www.youtube.com/channel/UCV3GuytG6_IQEFe_iibgESA
Click the "Tickets" link to RSVP!
THE CAVE SINGERS
www.thecavesingers.com
It's all in a name: there's definitely something primitive about The Cave Singers. Perhaps it's the stripped back arrangements, the muscular, rudimentary drumming, the gothic, gospel themes of sin, redemption and hellfire, or the unrepentant nods to early American roots music. Or maybe it's more to do with an intrinsic element in their sound -- truly retro, with a hissing undercurrent that evokes the crackle of old 78 rpm LPs. But there's also a droney element, along with distinctive, gravelly vocals, that adds just the right amount of weirdness to make the Seattle-based trio sound genuinely modern at the same time. All three members hail from previous (and more raucous) projects. Vocalist Pete Quirk came from Hint Hint, Marty Lund from Cobra High and most famously, bassist Derek Fudesco, founded The Cave Singers after the dissolution of successful Seattle indie rockers Pretty Girls Make Graves. It was an artistic departure for all of them --hanging up their post punk, indie spurs for a folkier, more acoustic approach, which at first glance may not seem to be the most stunningly original choice. But the effect is surprisingly arresting, and The Cave Singers have managed to carve out a truly inspired niche for themselves.
You've got to have a pretty solid identity to catch the attention of exclusive, taste-making label, Matador Records, who picked up the band in 2007 on the back of Pretty Girls Make Graves. That autumn they released their first LP, Invitation Songs (2007 Matador), a moody collection of arcadian songs that trips along like river water. The moods do vary, however, and the opening track, "Seeds of Light," (also released as a single) is an evocative sun-splashed ditty as opposed to "New Moments," a dark and ponderous waltz. The second single from the record, "Dancing on Our Graves," an intense, relentless evocation of crazed, ecstatic religious fervor, was released with an accompanying video. Check it out on YouTube: scratchy black and white footage of baptisms and fevered exorcisms all cleverly synched up to the lyrics. Invitation Songs was produced in Vancouver by Colin Stewart, producer of Black Mountain. The second Cave Singers record (also produced by Stewart) Welcome Joy (2009 Matador) is a tad breezier than the debut. The cyclical, acoustic guitar riffs are truly inspired, and they create a mesmerizing effect, especially on the sparse, bongo-driven meditative ramble, "Shrine," and the more uplifting, organic "VV." The band's punk roots show through at times in some edgier moments, like the angular "At the Cut," but even here, the retro, folk/gospel undertones are still present.
The album hangs together beautifully, making for a satisfying excursion into the contemporary but decidedly pastoral world of The Cave singers. The unlikely elements of their post-punk past collide seamlessly with their new, traditional acoustic idiom, and they manage to achieve an intriguing balance of an indie sensibility steeped in authentic Americana. Quirk's vocal is central to the band's identity; part classic rocker (Fleetwood Mac comparisons abound), part troubadour and part street preacher, he lends a raspy quirkiness that sits oddly (yet perfectly) in the overall stew of hypnotic, rolling guitar riffs and trad aesthetic. It's reminiscent, but it's also new, almost otherworldly, like an old Woody Guthrie record on a loop, with a chorus of cicadas droning over it — all heard through filtered, late afternoon sun.
BELLEVUE SCHOOL OF ROCK
https://locations.schoolofrock.com/bellevue
SCHOOL OF ROCK IS WHERE MUSIC AND LEARNING COME TOGETHER
For over twenty years, our amazing instructors have transformed hundreds of thousands of students across the world into skilled musicians. Become a musician at School of Rock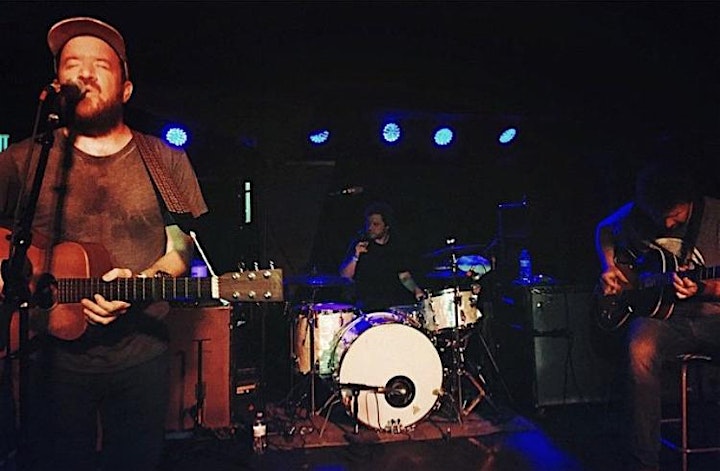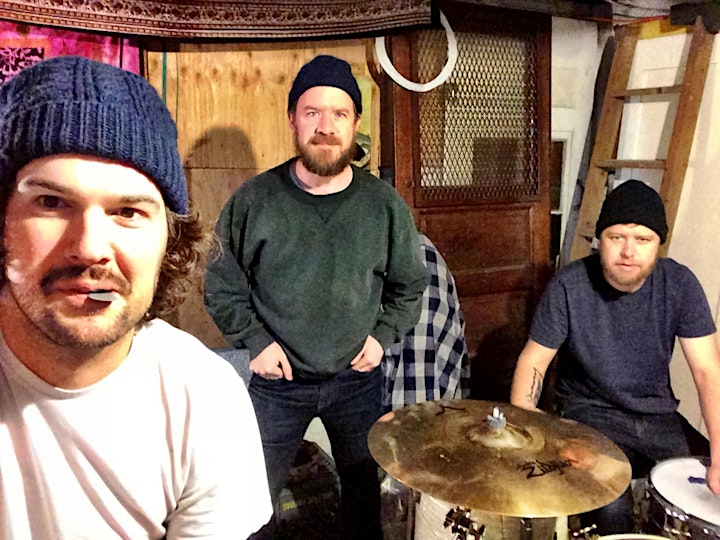 ***Keeping performers and limited crew safe is the #1 priority and we have a series of ground rules that require strict adherence as prerequisite to proceeding with each of these performances. We limit the people in the building to the absolute minimum of essential workforce only and have measures in place to promote social distancing before, during, and after performances. Self-reporting and temperature taking is a mandatory request to ensure nobody is symptomatic. Musicians are encouraged to wear masks while not performing. We do sanitize equipment after each performance, and do not allow sharing of microphones. Hand sanitizer is available throughout and of course we encourage hand hygiene, while discouraging any/all contact between individuals, face touching, etc and prohibiting close contact between crew and performers.***
Venue Information: