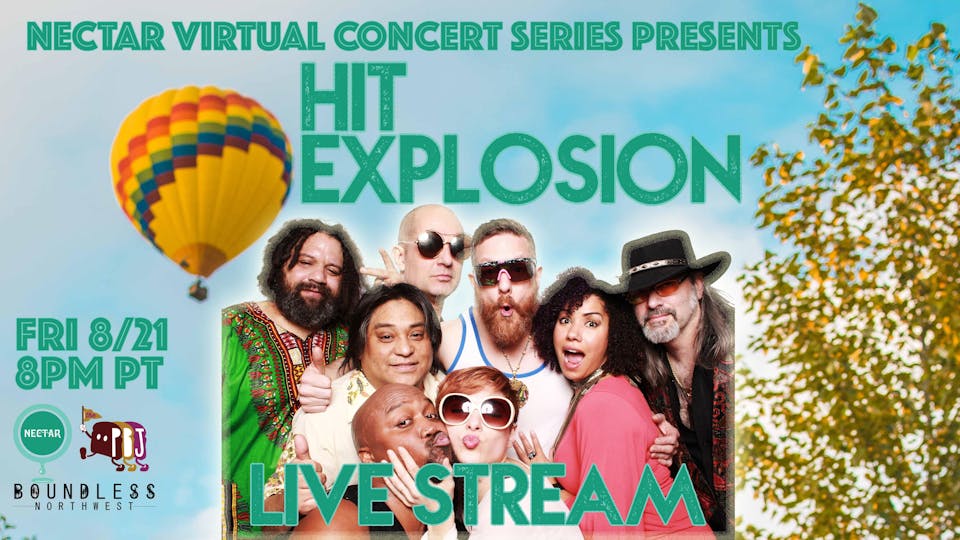 NVCS presents STUDIO 54 featuring HIT EXPLOSION (now a live stream concert)
Don't miss STUDIO 54 feat HIT EXPLOSION: the '70s + '80s most influential dance hits played LOUD & LIVESTREAMED! Please "Pay What You Will".
Since we're still not able to gather safely at events, this previously rescheduled concert is now going live online! If you had already purchased a ticket to the actual concert, we welcome you to consider that your contribution to the virtual concert. All former ticket holders will be notified with options in case they are unable to attend the virtual concert. For anybody who has not yet purchased a ticket, we invite you to please click the "Tickets" button and "Pay What You Will". Thanks for your patience and understanding, and we look forward to "seeing" you at the show!!
PLEASE SUBSCRIBE TO NECTAR YOUTUBE CHANNEL:
https://www.youtube.com/nectarlounge
and tune in for the live stream FRI 8/21 @ 8pm PT
8.21 Friday (Live Band / Disco / Dance)
NECTAR VIRTUAL CONCERT SERIES presents:
STUDIO 54
featuring HIT EXPLOSION
An evening of the '70s and '80s most influential dance hits played LOUD and LIVE!
8:00pm PT show
21+
"Pay What You Will" ($10 & up suggested)
1. Click "tickets" button and contribute any amount you'd like!
2. or contribute via https://www.paypal.me/nectarlounge
3. or send via Venmo: @nectar-lounge
NVCS supports the musicians, ACLU, and Nectar operations during COVID-19 lockdown. Your contributions are greatly appreciated!
American Civil Liberties Union (ACLU)
For nearly 100 years, the ACLU has been our nation's guardian of liberty, working in courts, legislatures, and communities to defend and preserve the individual rights and liberties that the Constitution and the laws of the United States guarantee everyone in this country. Whether it's achieving full equality for LGBT people, establishing new privacy protections for our digital age of widespread government surveillance, ending mass incarceration, or preserving the right to vote or the right to have an abortion, the ACLU takes up the toughest civil liberties cases and issues to defend all people from government abuse and overreach. https://www.aclu.org
***Keeping performers and limited crew safe is the #1 priority and we have a series of ground rules that require strict adherence as prerequisite to proceeding with each of these performances. We limit the people in the building to the absolute minimum of essential workforce only and have measures in place to promote social distancing before, during, and after performances. Self-reporting and temperature taking is a mandatory request to ensure nobody is symptomatic. Musicians are encouraged to wear masks while not performing. We do sanitize equipment after each performance, and do not allow sharing of microphones. Hand sanitizer is available throughout and of course we encourage hand hygiene, while discouraging any/all contact between individuals, face touching, etc and prohibiting close contact between crew and performers.***
Balloon photograph by: Chase Endreson
------------
It was with a heavy heart that we all had to cancel our shows, and we hope that NVCS brings fans some much needed entertainment during these challenging times!
Thanks for your continued support, stay safe and healthy out there, and we look forward to seeing you at this or another stream in the Nectar Virtual Concert Series, and of course at the next live concert when we reopen!
With Love,
Team Nectar
Streaming live via
Nectar Lounge
412 N 36th St
www.nectarlounge.com
HIT EXPLOSION
Voted "Best Live Performance Cover Band" by the Northwest Music Awards Association, Hit Explosion performs authentic 70's and 80's disco and dance hits combining exceptional musicianship with an electrifying presentation. The group sets itself apart by its diverse and talented lineup, allowing for impressive reproductions of the original 70's hits. Since its inception, the band gained sudden success and has remained at the zenith of the "disco explosion" craze, an ensemble possessing a rare and unique chemistry, with that "special something" igniting even the toughest crowds. From college to corporate, from kids to seniors, Hit Explosion is notorious for their ability to captivate & energize diverse audiences.
Some of their performances include: New Year's Eve at the Space Needle (for 25,000 people); New Years Eve (2006 & 2007) at EMP (3,000+ people) sold out in advance, the Bite of Portland (headliner); Bumbershoot; The Seattle Mariners "largest post game concert ever" (over 12,000); the Kingdome Implosion Party on Channel 13 (KCPQ); "News at Noon" live show on Channel 7 (KIRO); The Rosegarden (Portland's 21,000 seat venue), The Showbox; regular sell-outs at The Crystal Ballroom (Portland); Portland Rose Festival (w/TV); performances at actor Bruce Willis' club (The Mint) in Sun Valley; The Seattle Art Museum's Black & White Ball; The Bacon Bowl; the Gorge Games; Poncho, WAC Jubilee; Medina Days; Pronghorn Club (Bend, OR); Sun River Resort (OR), the Seahawks' Halftime & Players Parties; Pre-game/Halftime for the Seattle Sonics season opener & other games in Key Arena; The Bird's Nest Music Fest (w/ Glen Frey) at the PGA Phoenix Open (Phoenix, AZ); Seattle Summer Nights on the Pier (the only regional headlining act, selling out 4,000 tix); the YellowStone Club (Big Sky, MT) & private parties for many other film & sports celebrities.
Microsoft, Intel, Boeing, Nike, K & L Gates, Y.P.O., Y.E.O., Rolls Royce, Big Fish, KOMO TV, Yoshita, AT&T and hundreds more, are choosing Hit Explosion above all other bands for their employee corporate parties. Paul Allen, Bruce Willis, Jack Sikma, and other celebs (and CEO's) have been spotted on stage playing with the band. Bill Gates has even been spotted on stage with Hit Explosion at Seattle Center Exhibition Hall. Hit Explosion has played with other national acts including : Chaka Khan, Tower of Power, Kool & the Gang, KC & the Sunshine band.
In film, Hit Explosion vocalists' performed in the opening track, "On FireSuite" of Smoke Signals, the feature film that captured both the Audience Choice Award and Filmmakers Trophy at the Sundance Film Festival.
Hit Explosion was voted "Best Live Performance Cover Band" by The Northwest Music Award Association and "Best Local Band" by The Eastside Weekly Readers' Choice Awards. Group members were seen in life size murals (along w/ other celebrities) appearing to wait in line on the walls of the Seattle Nordstroms downtown flagship store.
The Seattle Mariners have described Hit Explosion as "Seattle's favorite band."
Voted "Best Live Performance Cover Band" by the Northwest Music Awards Association, Hit Explosion combines exceptional musicianship with electrifying showmanship. The group sets itself apart by its diverse and talented lineup, allowing for impressive reproductions of the original dance floor songs.
"Last Friday night after Hit Explosion's first set, a palpable cloud of steam rose off the body crush that packed not only the dance floor but every other nook and cranny of the brick-walled basement. They clearly love this music and their audience."
— Seattle Times
"The upbeat, danceable disco band has a following like few others, and their appeal is undeniable."
— Seattle P-I
www.hitexplosion.com
Venue Information: