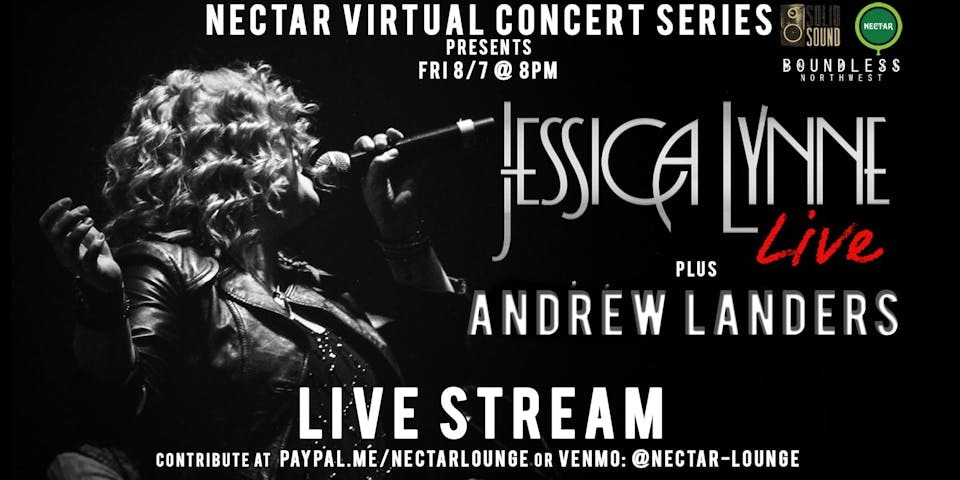 NVCS presents JESSICA LYNNE & ANDREW LANDERS (Live Stream)
Andrew Landers
Nectar Virtual Concert Series #41 featuring JESSICA LYNNE & ANDREW LANDERS! "Pay What You Will" via PayPal @ paypal.me/nectarlounge
Click the "Tickets" link now to contribute!
STREAMING LIVE ON NECTAR YOUTUBE CHANNEL:
https://www.youtube.com/channel/UCV3GuytG6_IQEFe_iibgESA
8.7 Friday (Country)
NECTAR VIRTUAL CONCERT SERIES featuring:
JESSICA LYNNE plus ANDREW LANDERS
Proceeds benefit Diamonds In The Dust Foundation
8:00pm PT
"Pay What You Will" Other ways to contribute are:
via PayPal @ paypal.me/nectarlounge
or via Venmo: @nectar-lounge
$10 & up Suggest Contribution (your contributions are greatly appreciated!)
Net Proceeds from contributions go to:
The Artist,
Diamonds In The Dust Foundation - Scholarship program for women,
and Nectar operational expenses during COVID lockdown
------------
Streaming live via
Nectar Lounge
412 N 36th St
www.nectarlounge.com
Jessica Lynne
http://www.jessica-lynne.com
Sometimes authentic country music artists do not grow up in what we would consider hotbeds of country music. Sometimes they grow up in Haslev, Denmark, the hometown of Nashville recording artist Jessica Lynne, who currently resides in Tacoma, Washington. Jessica first encountered country music at the age of twelve, when her local TV provider temporarily broadcast the CMT music video channel. "I was home with the flu and just kind of left on that channel," she says. "Little by little, I fell in love with the genre. It touched my heart in a way that I had never felt before."
Upon moving to the U.S. in 2010, Jessica's country music career took off like a shot, buoyed by her vocal and songwriting talents, infectious stage presence, and exceptional work ethic. She has opened for stars like Dustin Lynch, Diamond Rio, Keith Anderson, and Jeff Foxworthy, featured at festivals alongside Lady Antebellum, Tim McGraw, and Little Big Town, and graced legendary stages like the Gorge Amphitheater and Seattle's Triple Door theater. Her first Nashville album, Catch Me If You Can, was released in 2016; a follow-up is due out later in 2019.
The transcontinental move from her lifelong home in Denmark to the U.S. was eased by the fact that her dad and his family were already living near Seattle. Being surrounded by a supportive network of family, she felt, was just the kind of positive energy she would need to adjust to the transition. Once settled, Jessica wasted no time adjusting to Seattle's musical landscape. With her impressive vocal skill, warm personality, and a rare knack for writing songs that are both catchy and honest, she became an instant favorite with Seattle's country music promoters, musicians, and fans alike.
Within just a few years, she had taken top honors at the Washington state level of the Texaco Country Showdown--the nation's largest country music talent search--and released a string of singles. "Calling Me Home," her 2014 ode to her newfound home in the Pacific Northwest, was added to Play Network's rotation of music used in stores and malls globally, and the song's music video won the "Audience Choice" award at the Seattle Shorts Film Festival in 2016.
Catch Me If You Can (2016) was Jessica's first album to be recorded in Nashville. Working with Larry Beaird and his crew at Beaird Music Group, Jessica says, was "an incredible experience. These are the top players in Nashville and they know exactly what to do with my music." In February of 2019, Jessica returned to Nashville to record another album with the same team, to be released later this year.
Jessica amped up the rock and gospel influences on her live sound in 2018, with an overhauled backing band lineup featuring thick three-part female harmonies, including Danish X-Factor star Cirke Cherockee. The result is a fresh, contemporary take on country music with female power at the forefront, at a moment when the industry and the world is sorely ready for it.
ANDREW LANDERS
http://andrewlanders.com/
A live show with Andrew Landers and or Mainstreet Struggleville is a medicinal musical collide of Shawn Mullins writing style, Tommy Emmanuel's acoustic guitar prowess, the soulful bluesy influence of Stevie Ray Vaughan, the jam bandy feel of Phish and the good vibe of Bob Marley.
Venue Information: