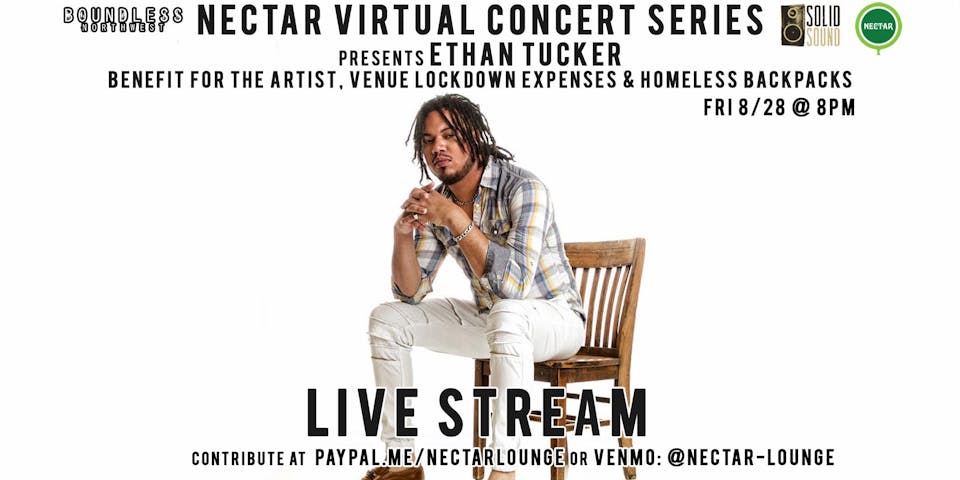 Nectar Virtual Concert Series #44 featuring ETHAN TUCKER! "Pay What You Will" via PayPal @ paypal.me/nectarlounge
Click the "Tickets" link now to contribute!
STREAMING LIVE ON NECTAR YOUTUBE CHANNEL:
https://www.youtube.com/channel/UCV3GuytG6_IQEFe_iibgESA
7.24 Friday (Reggae/Soul)
NECTAR VIRTUAL CONCERT SERIES featuring:
ETHAN TUCKER
Benefit drive for Homeless backpacks, The Artist, and Nectar during lockdown
8:00pm PT
"Pay What You Will" Other ways to contribute are:
via PayPal @ paypal.me/nectarlounge
or via Venmo: @nectar-lounge
$10 & up Suggest Contribution (your contributions are greatly appreciated!)
Net Proceeds from contributions go to:
The Artist,
Homeless Backpacks - https://homelessbackpacks.org/
and Nectar operational expenses during COVID lockdown
------------
Streaming live via
Nectar Lounge
412 N 36th St
www.nectarlounge.com
ETHAN TUCKER
http://www.ethantuckermusic.com/
Ethan Tucker's trademark sound of acoustic roots and layered electric guitars combined with an unmistakable soulful and bluesy vocal, is a recipe which has garnered attention from some of his most popular contemporaries, as well as bonafide legends.
Born in Olympia, Washington, Ethan has traveled the country with Jimmy Cliff, Buddy Guy, and The Wailers as well as national support slots with musical peers Slightly Stoopid, G-Love, and Michael Franti.
With Ethan's newest release Misunderstood, now out on Stoopid Records (May 5, 2015) his enthusiasm for collaboration is seamlessly exemplified on his 11-song album produced by Michael Franti and Mario Caldato Jr., (Beastie Boys, Jack Johnson, G Love), and includes special guests Money Mark, Norwood Fisher (Fishbone) and Thomas Pridgeon (Mars Volta).
Ethan's career took off after impressing Michael Franti with an impromptu backstage jam in Spearhead's dressing room long before ever playing a show together. Ethan was summoned by Franti to come to his studio in San Francisco, CA to record what would later become some of the more infectious tracks on Misunderstood. From there, a bond between the two artists was solidified. The first single "Crazy Tonight" was arranged, recorded, produced at Franti's studio, also features him on guest vocals. This track, coupled with the reggae-pop hybrid "Cool Kids" (also produced by Franti) opens a new album that is a cohesive coming of age for an artist in Ethan's shoes - except "ET" as some fans call him, doesn't wear shoes!!
"I think Ethan is going to be a perennial artist for a lifetime of music. He is not somebody who you think is going to be like three years on the map and then you never hear from them again. "He is going to be an artist to me like Ben Harper or Jack Johnson or even John Lee Hooker." An who plays music until they can't play anymore." - Michael Franti
"Ethan is amazing at whatever he does. Singing, strumming, shredding the guitar on leads, or just making people smile. He's good at it all. His latest album Misunderstood has many variations of styles. My favorite song off it is "This has all been a dream". It best captures Ethan's talent and personality Good music is great, but when the personality and character of the person making the music is just as great, there ain't nothin' better."- Kyle McDonald, Slightly Stoopid
Venue Information: