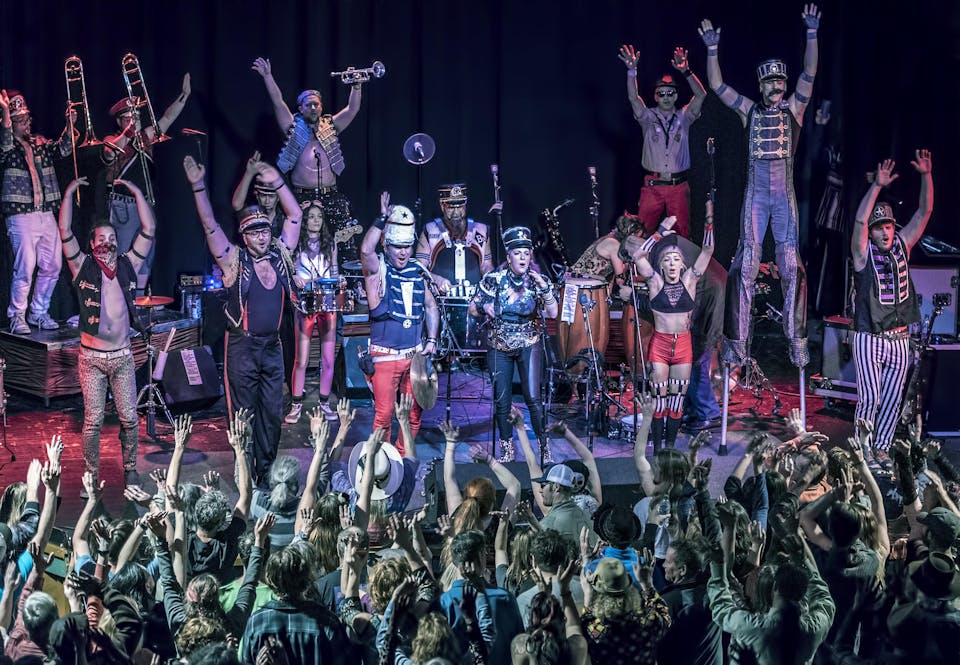 Nectar & The PBJ Present:
Marchfourth Marching Band AT NEUMOS
Cumbieros
$21.25 - $26.25
Sales Ended
On Eventbrite
MarchFourth is troupe of twenty musicians, dancers, acrobats and stilt-walkers coming into town like a traveling Funk Circus Party!
2.29 Saturday (Circus Funk / Brass Party)
Honk! Fest West, Nectar & The PBJ Present at Neumos:
MARCHFOURTH
with Cumbieros
$21.25adv / $26.25dos
8pm doors
21+
Neumos
925 E. Pike St
www.neumos.com
MARCHFOURTH
MarchFourth is a kaleidoscope of musical and visual energy that inspires unabashed dancing, and an atmosphere of celebration. Dressed in redesigned marching-band-themed costumes, they bring electric bass, 4-piece percussion corps, a 7-part brass section, dancers, acrobatics, stilt-walkers and a very diverse musical repertoire. M4 is far from a "marching band" in any traditional sense but they have been known to swagger down Main Street playing tunes before taking the stage. MarchFourth travels in a crew of about 20, all on one tour bus, bringing their unique brand of party with them all over the world. Their show will take you on a journey from the swamps of Louisiana to the gypsy camps of eastern Europe to the African jungle by way of Brazil, echoing the deepest grooves of American funk, rock, and jazz then boiling it all together in cinematic fashion, real showmanship and dazzling dancing. This genre-busting, in-your-face experience is not to be missed!
Cumbieros
The Cumbieros are a Seattle born multi-national cumbia band made up of talented musicians from Chile, Brazil and North America. Featuring such instruments as violin, accordion, guiro, guitar and horns, The Cumbieros fuse traditional and contemporary South American cumbia with the modern sounds of ska and rock creating fun, high-energy music that drives everyone to the dance floor. Cumbia is a genre of music/dance that originated in Colombia and is now extremely popular all across Latin America. The Cumbieros hope to spread the popularity of this music to the Pacific Northwest and beyond with one goal in mind; getting people on the dance floor. Come dance with us! EsoOOoOOoo!!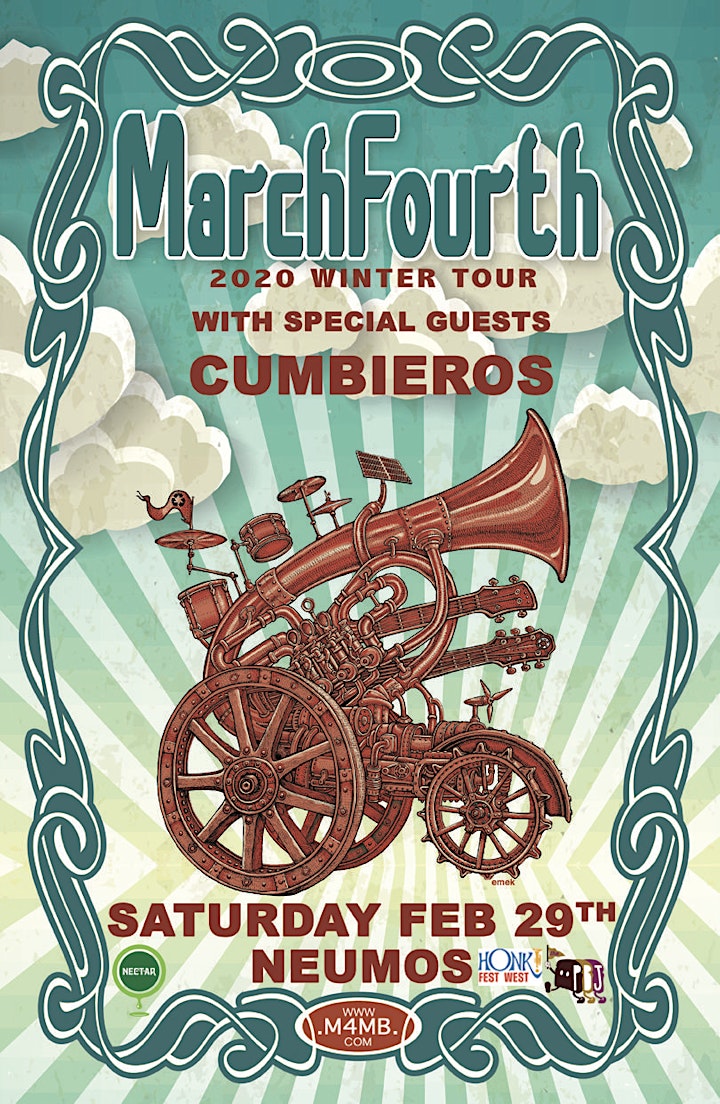 Venue Information:
Nectar Lounge
412 North 36th Street
Seattle, WA, 98103