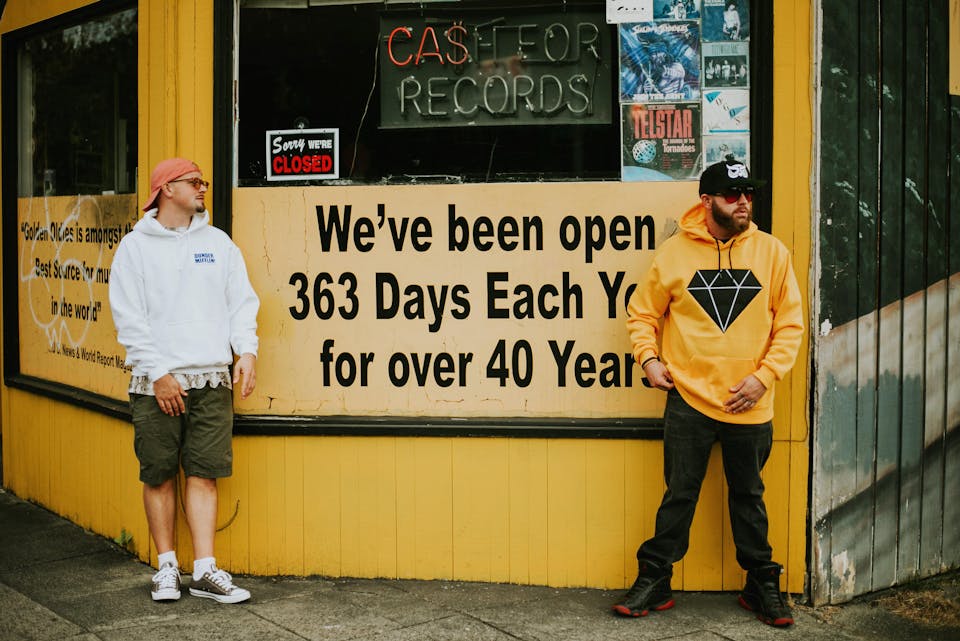 Knowmads
B-Boy Fidget, Tapes-One2, Mr. Hi-Def
KNOWMADS return to Nectar on 12.26 for a Hip Hop Holiday Special. Snag your tickets now!
12.26 Thursday (Hip-Hop)
Nectar & SolidSound present A Hip-Hop Holiday Special featuring:
KNOWMADS
B-Boy Fidget
Tapes-One2
Mr Hi-Def
Hosted by Marshall of MLB
$12adv
8pm, All Ages
Nectar Lounge
412 N 36th St
www.nectarlounge.com
KNOWMADS
Born one day apart, Northwest hip hop duo KnowMads began their movement almost a decade ago and have been cultivating one of the most diehard independent followings in the region ever since. They began making music purely out of love. As their passion grew, so did their fan base.
Tom Pepe and Tom Wilson went to rival high schools in Seattle where their infamous rap battles during football games were often more of a spectacle than the game itself. Wilson had a makeshift studio in his attic where they recorded their first songs at age 15. "We used to take the metro bus around the city, traveling from place to place," recalls Wilson. "We were nomadic in the sense that we were always on the go, yet felt at home wherever we were…as long as we were performing and creating music."
They released their first album, self-titled KnowMads, as juniors in high school and followed up with their 2009 LP, SEATTLE, selling over 2000 copies and creating a global awareness that follows them to this day. Their third LP, 2012's The Knewbook, landed at #7 on the iTunes Hip Hop Charts, solidifying their grassroots movement. Their significant online presence brought forth opportunities to open for Macklemore, Chance The Rapper and landed them slots at major music festivals such as Bumbershoot and Sasquatch! Their live performances have brought them up and down the West Coast, from Vancouver to Los Angeles, where they now reside.
Knew School represents their migration, not only to Los Angeles, but also into the mainstream music industry. Producer Peter Lee Johnson (Atlantic Records) was brought on board to lend his classically trained ear and experience to the project. The process began with Johnson sending the duo loops, which they would play endlessly, working together to determine themes based on the feeling of the tracks. Knew School was conceptualized around their formative high school days, but laced with broader themes and life lessons, which emerged in the succeeding years.
KnowMads have a synergy that can only come with a decade's worth of writing and performing together. Their sound encompasses two unique personalities and tones, but the message of their music has one voice. "Our fans often tell us they feel like we put their thoughts into words," Pepe says. "It makes us realize how universal our message is. We've created a cultural outlet for those who don't feel they have a culture to connect to."
B-Boy Fidget
Aside from being a world famous Break-dancer (B-boy) and recording artist, Marcus Sharpe – "B-Boy Fidget" is well known for his production, and songwriting talent. He's had the pleasure of working behind the scenes for artists such as: 2Chainz, Black Eyed Peas, Usher, Rico Love, Jacob Latimore, Trey Songz, Waka Flocka, Ron Devoe (of New Edition), Bizarre (of D12), Tech Nine, Boyz N' Da Hood, Cherish, Nevia, and a long diverse list of others.
The 33 year-old owner of F-Rock Clothing (www.F-RockClothing.com), F-Rock ENT., Palace Recordings and the leader of the world famous Fraggle Rock Crew, is here to stay. With a goal to help restore the balance in Hip-Hop culture, Fidget is branding himself and his companies early in his career with a nod to the legacy of Hip Hop and the power of music to globally influence generations of people for years to come. His newest album release entitled "No Compromise" will be available online everywhere Sunday, August 12th, 2018.
Tapes-One2
Tapes-One2 is a Hip-Hop artist from currently residing in Bremerton Washington. He was in Los Angeles\Palmdale California and grew up listening to artist such as,"Slick Rick, Nas, DMX, Tribe Called Quest, Slum Village, Tech N9ne, Dj Premier etc." He established his name originally as a graffiti artist. He was also heavy into old school Hip-Hop at the time, so the name translated. He still does graffiti but no longer gets up unless it's a legal wall. He is a 26 year old artist with plenty to offer, and there's plenty of music in the works. He thrives on creating meaningful music with substance, he likes to tell a story that others can relate to.
Mr Hi-Def
Henry Dubar (born March 27, 1991), better known as MR. HI-DEF, is an American Hip-Hop recording artist & cinematographer from Seattle, WA. Over the years Hi-Def has put out a dozen mixtapes, directed 30+ music videos & has released a studio album. In 2015, he has opened up for artists like Curren$y, Black Milk & Nappy Roots to name a few.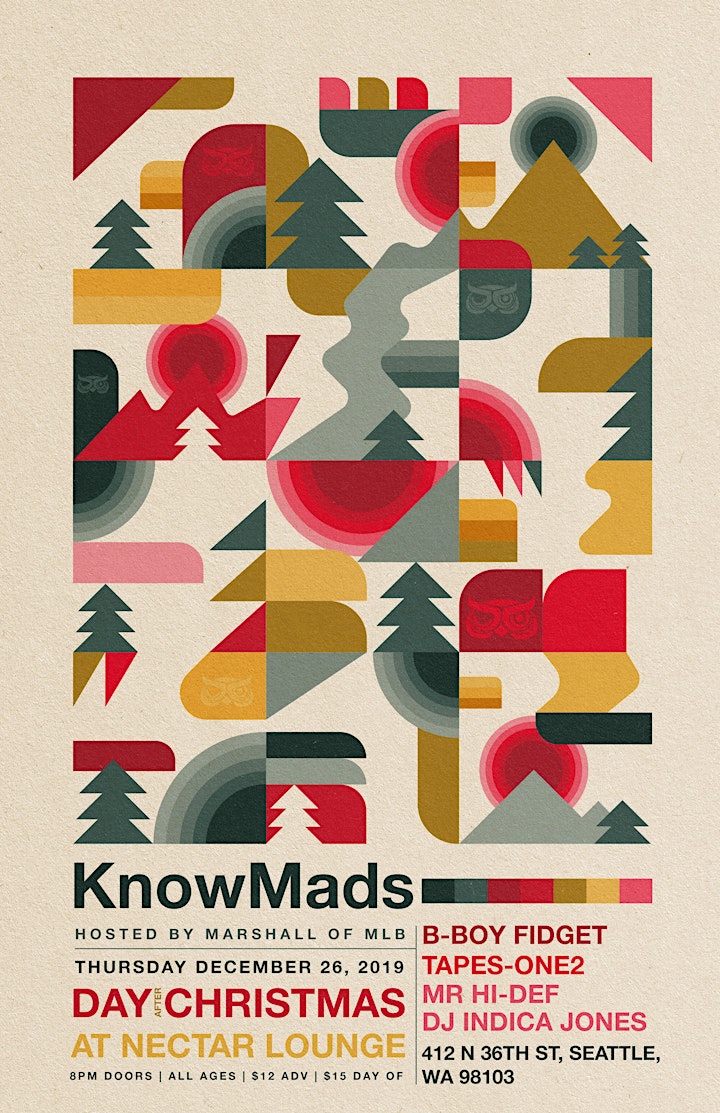 Venue Information:
Nectar Lounge
412 North 36th Street
Seattle, WA, 98103