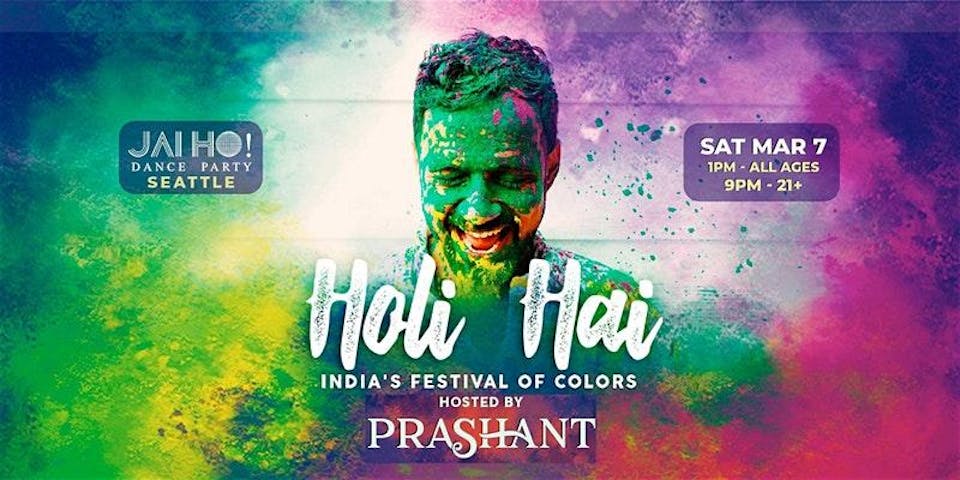 Bollywood Dreams Entertainment Presents
Holi Hai - All Ages Color Festival in Seattle w/ DJ Prashant
$10.00 - $25.00
Sales Ended
At Holi Hai, the Festival of Colors in Seattle we celebrate the coming of spring, the joy of friendship, and equality for all.
Coronavirus Update to our Holi Parties: 
Saturday, March 7th: Due to safety concerns, we are rescheduling the Color Throw and Color Powder portions of our Holi Events from Saturday March 7 to Sunday, May 24th.
HOWEVER, the parties are ALSO still on for tomorrow - Saturday, March 7th at 1:00 pm and 9:00 pm. We are shifting to a Glow Party theme and will have UV blacklight paint and accessories for everyone to apply themselves. Using the glow paint is optional and not an interactive experience (don't have to use it on your face or apply it to someone else). It's more like getting a henna tattoo instead of playing with colored powder. 
Sunday, May 24th: If you bought tickets, they will be valid to celebrate tomorrow's safer Holi as well as the May 24th events with proper Color Throw at no additional cost. Essentially, you get two parties for the price of one. We can't wait to celebrate with you tomorrow and in May.  
More on our Holi Glow Parties: We are turning off the lights & turning up the party this year with a GLOW IN THE DARK theme at Nectar Lounge - all the joyful vibes of India's Color Festival with a modern nightclub twist. We'll provide body paint & accessories, so don't be afraid to show a little skin and get colorful at this non-toxic, eco-friendly Holi celebration!
3.7 Saturday (Bhangra / Dance)
Bollywood Dreams Entertainment Presents:
Holi Hai - All Ages Color Festival in Seattle w/ DJ Prashant
1pm, All Ages
Nectar Lounge
412 N 36th St
www.nectarlounge.com
It's that time of the year again!
At Holi Hai, the Festival of Colors in Seattle we celebrate the coming of spring, the joy of friendship, and equality for all. All nationalities and ethnicities are encouraged to participate!
GET YOUR TICKETS NOW!
Ticket price includes color packets, outside colors strictly not allowed.
Thanks to your support over the years & demand for an All Ages Holi party, Sat March 7th from 1 - 5 PM is LIVE!
First time to our All Ages Holi Party? Watch this blast from the past: https://youtu.be/T-KmlwdfABE
_______________________
Bollywood Dreams Entertainment Presents:
Our 3rd Annual
Holi Hai - All Ages Festival of Colors w/ DJ Prashant
Jai Ho! Dance Party
It's a festival where families are encouraged to get messy playing with colors AND dancing to Bollywood music! Come dressed in white & dance the afternoon away soaked in Gulal (powder colors).
________________________
All Ages Show
SATURDAY MARCH 7, 1pm to 5pm
________________________
NECTAR LOUNGE
412 N. 36th St, Seattle WA
________________________
Hosted by:
DJ PRASHANT
________________________
FEATURING:
Bollywood Dance Lesson (2pm)
Holi Special Dance Performances
Holi color throw (3pm)
Professional Photography & Videography
________________________
Jai Ho! Holi Hai is the ONLY party in Seattle where you can properly enjoy color play. We setup an LED lit tent outside the venue & provide ample color for everyone to have a blast.
ALL AGES SHOW DETAILS:
Doors open at 1pm – All Ages – till 5pm!
Online advance tickets starting at $15, tickets at the door $35
Your ticket prices include color powders. Strictly NO OUTSIDE COLORS ALLOWED
We will provide Holi colors at 3pm. Make sure to wear white and get colorful!
Colors can be played with ONLY at the designated area outside the nightclub
If you'd like to skip color playing, you can stay inside the club.
________________________
ABOUT DJ PRASHANT:
"Prashant is creating a new kind of club culture, where the east meets the west" – KING5 TV (Video)
"Vanguard for emerging cultural movement" – The Asian Reporter
Founder of Jai Ho! Dance Party & Dance United, Prashant is an Indian born ex-Intel engineer turned Bollywood sensation. With over 10 years of experience performing across the US, Prashant's effervescent personality & charisma instantly strikes a chord with audiences of all ages & backgrounds. A one-of-a-kind Bollywood showman, this triple threat singer, choreographer, & DJ has a simple agenda, to make you dance all night long.
While deeply rooted in Bollywood & Bhangra music, his DJ sets often feature an irresistible blend of some of the world's hottest dance music genres. The interactive dance lessons sprinkled in his DJ sets compel everybody to rock the dance floor, transforming any dance party into a full-fledged Bollywood musical within minutes.
ABOUT JAI HO! DANCE PARTY:
Facebook Page: http://facebook.com/jaihodanceparty
Instagram Page: http://instagram.com/jaihodanceparty
Youtube: http://youtube.com/jaihoparty
Get transported to an experience that is akin to being in a Bollywood musical complete with interactive dance lessons, performances & non-stop hard hitting beats from the east. Founded in 2010 by Prashant, an immigrant turned DJ, & like minded friends, Jai Ho! is a celebration of Indian music & dance like no other. At its core are the values of inclusivity and sharing positive vibes by bringing the best of Indian culture to the dance floor. The innovative themes that setJai Ho! apart are transforming American nightlife bringing to it festive elements like Holi Colors & Dandiya Sticks. We invite you to be goofy, smile, make friends on the dance floor, and of course, to sing and danceALL. NIGHT. LONG.
Jai Ho! is the only Bollywood dance party that regularly tours across the US in Portland, Seattle, SF, LA, San Diego, New Orleans, Eugene, Denver & more being added. Jai Ho! Dance Party is a branch & creation of the production house-team, Bollywood Dreams Entertainment.
FAQs:
Are there ID requirements or an age limit to enter the event?
Our afternoon party is ALL AGES! Bring your family. 🙂
What are my transport/parking options getting to the event?
Plenty of street parking available.
Are tickets refundable?
No refunds are available, and all ticket sales are final.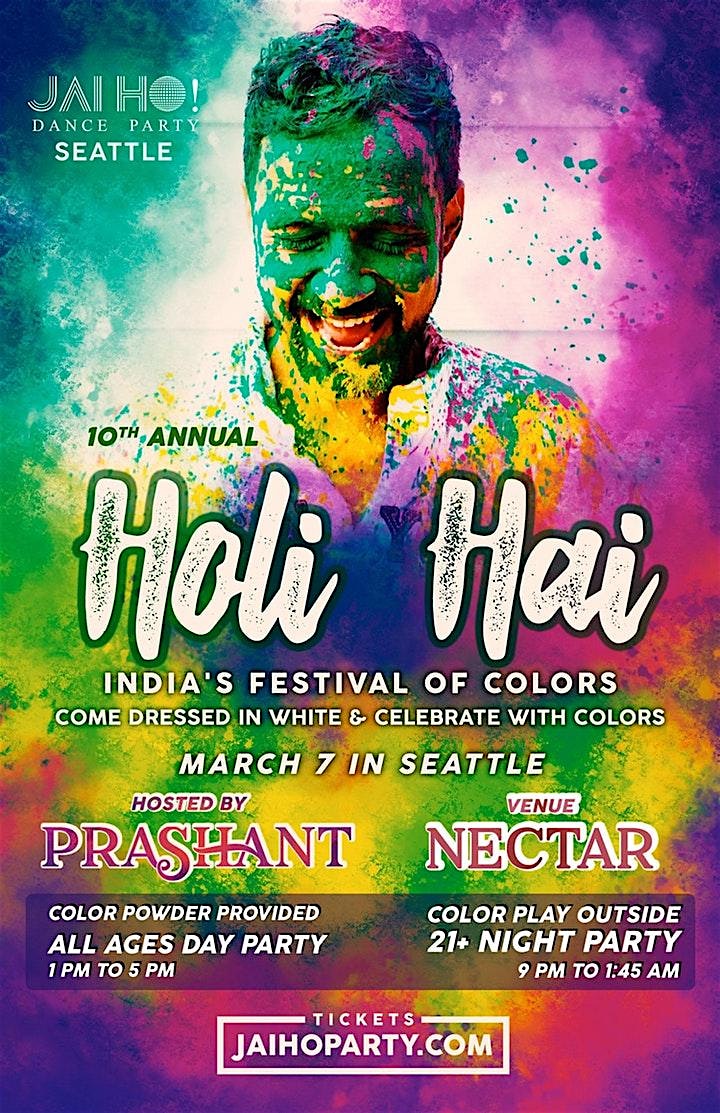 Venue Information:
Nectar Lounge
412 North 36th Street
Seattle, WA, 98103