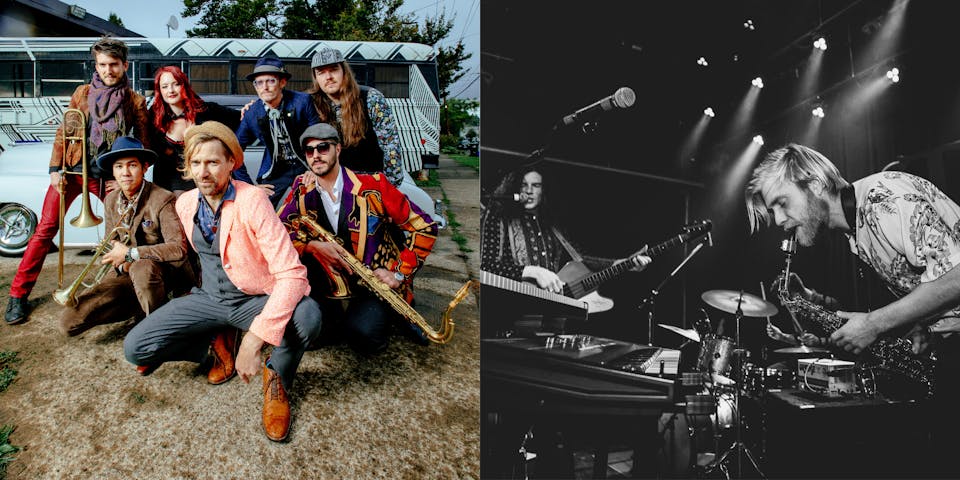 Nectar & SolidSound present:
HIGH STEP SOCIETY
GENERAL MOJO'S, Filthy Femcorps
Join us for an eclectic night where Electro Swing meets Psychedelic Rock and more. Tickets available now!
1.10 Friday (Electronic)
Nectar & SolidSound present:
HIGH STEP SOCIETY
GENERAL MOJO'S
Filthy Femcorps
$12adv/$15dos
8pm, 21+
Nectar Lounge
412 N 36th St
www.nectarlounge.com
HIGH STEP SOCIETY
When the honeyed tones of The Jazz Age meld with hottest beat drops of the new millennium, you get High Step Society's elixir of American Electro Swing. Grandma remembers when she listened to jazz giants on the old Victrola. Grandkids feel the bass deep in their chest cavity. Merging dance music from our past with sounds for the future, High Step Society features a shimmering horn section that soars over syncopated high hats and rat-a-tat snare. The kids in the band are electronic music producers as well as educated jazz musicians. Audaciously sophisticated, High Step Society is rethinking jazz with unorthodox arrangements, and bringing a touch of class to electronic music.
The band is "at once groovy and raucously tight, High Step Society's tunes growl to a Cotton Club vibe that plunges the depths of the EDM trench." (Eugene Weekly, 10/8/15). They "take it to the next level with live horn sections, sultry singers and energetic dance beats that capture the excitement of the jazz age and rocket launch it a century into the future." (Eugene Weekly, 4/9/15) Their live shows are classy affairs where everyone is encouraged to dress their best, so the band and the crowd are looking top notch while the dance floor sizzles.
High Step Society's first recording, "The Duke Suite" EP was released July 2015 for download on their SoundCloud page. This is just the beginning for this hot new band who takes inspiration from the likes of Caravan Palace, jazz greats like Duke Ellington, and newer producers like G. Jones. Since their formation in 2015, they have been lighting up music festivals and packing dance halls across the Northwest.
GENERAL MOJO'S
Resurgence isn't a term to take lightly, particularly in music; it takes more than one band to bring back an entire sound. The application for a psychedelic pop "resurgence", though, has been developing a more convincing case file with acts like The Flaming Lips, Tame Impala, and Animal Collective fronting a renaissance of familiar soundscapes that recall the tradition of long haired frontmen making fuzzy yet catchy rock sounds.
Since 2012, General Mojo's has been moving forward with that application, providing an American Northwest-spin on the music of a regrettably bygone era.
Starting as a cast of friends playing in Seattle's DIY scene, Dune Butler had used the forming of a psych rock band as the start to the sound he was dreaming to accomplish after spending time with the folk / country act BLVD Park. After recruiting guitarist David Salonen, drummer Sam Veatch and finally keyboardist Eric Vanderbilt-Mathews into the fold, they set out as General Mojo's Key Project. Their first show was in the basement of 5010 house, and in their first instrumental track "Free Sound Paradox", they laid out what their sound was going to be: simultaneous waves of psychedelic and melodic, bouncy and heavy, down-home and interstellar.
They were to be a four piece with featured vocals, then provided by Tekla Waterfield (also formerly of BLVD Park) in tracks such as "Chandelier", which calmly strolls along in straight lines of elegant verse-chorus, and "The Jeannie Suite", which evolves and grows and references back to the song's past-- something more akin to a rock opera.
The four Key members began to share space, and in living together grew chemistry and developed the need and love of vocal harmonizations that would require a full time co-lead. This lead, first provided by Kate Ettinger, opened doors for the band's sound and allowed their first tour (in support of their first record, then-eponymously titled General Mojo's Key Project) to form the foundation of what would evolve into their signature tone.
This sound continued to grow and was more prominently featured in their second and most recent record, How Hollow a Heart. Thanks to Ettinger's vocals and sound wizard Jeffrey Marshall's mixing and mastering, HHAH was released as a statement of the band's forthcoming prominence. With tracks such as "The Valley", "Geese on the Lawn" and "Don't Feed the Birds", the band developed a more driving and full sound that expanded on their first record's duality of experimentation and practicality. Not long after HHAH was tracked Ettinger returned to her home city of New York, NY to fulfill her solo career, and the band elected to drop "Key Project" from their title, leaving simply General Mojo's (they kept the apostrophe, don't forget it).
Now in the wake of the aforementioned second album, General Mojo's is creating an even more locked down groove with newest addition Heather Thomas, who provides non-traditional accompaniment as a vocal lead with percussion and floor tom positioned front and center of the stage. In the face of changes and evolutions and turns not unfamiliar to any newer band, General Mojo's stage presence has remained steady in the face of a shifting city and scene. On top of the latest tour, the band is also writing and working on their third record, which promises to be the most mature iteration of their sound yet.
Despite their light hearted approach to stage presence and style, GM provides a serious sound, collecting the hook-laden melodies and complex lucid solo sections reminiscent of Yes, Emerson Lake & Palmer, or (bringing it back to the whole resurgence conversation) something like Temples. Bringing together Butler with his Thunderbird, Salonen with his Telecaster, Vanderbilt-Mathews dual-playing a Nord and Juno 106, Veatch and Thomas holding it down with drum / percussive elements, and the whole group chiming in on elaborate and alluring harmonies to accompany Butler and Thomas' lead vocals, it's exciting to see: General Mojo's plays both the loose and groovy rock you remember and a buttoned down psychedelic sound you've never experienced before.
Filthy Femcorps
Welcome to Filthy FemCorps! Filthy: as in unapologetically rad Fem: as in all women & non-binary Corps: as in a group of people (that rock!) We only play music composed, arranged, and performed famously by women.
The Filthy FemCorp's mission is to foster a nurturing environment where all types of women are empowered to freely express their creative talents, pushing boundaries joyously, fiercely and unapologetically through high energy music and movement, developing both as individuals and as a sisterhood of musical warriors.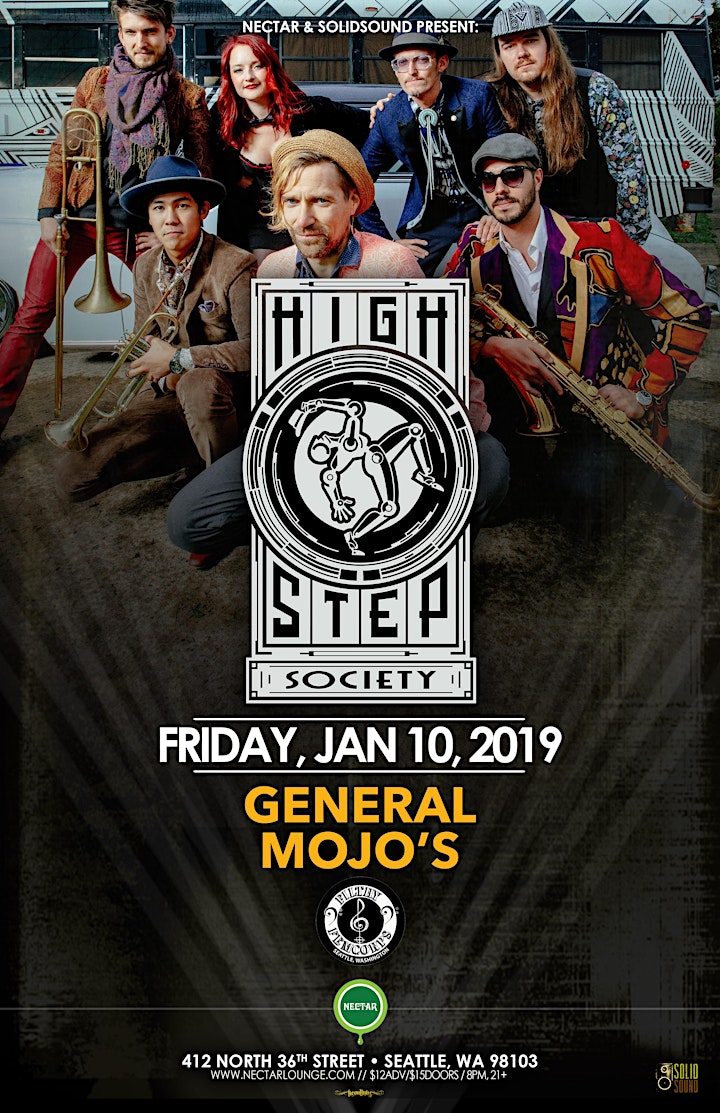 Venue Information:
Nectar Lounge
412 North 36th Street
Seattle, WA, 98103