Don't miss the long anticipated return of world-jazz infused jamband GARAJ MAHAL joined by special guests Swindler! Tickets won't last long!
4.11 Saturday (Jam / Jazz / Funk)
Nectar & The PBJ Present:
GARAJ MAHAL
Swindler
$15-20adv / $25dos
8pm doors
9pm show
21+
Nectar Lounge
412 N 36th St
www.nectarlounge.com
GARAJ MAHAL
When you hear your first Garaj Mahal note, leading into an innovative fusion of funky jazz with a tasty world music flare, all other thoughts leave your mind as the music takes you on an unforgettable voyage. Fans return to experience the band again and again because they know they will always hear something new and progressive from four first-class musicians.
Featuring guitar and sitar virtuoso Fareed Haque, world-renowned bass master and educator Kai Eckhardt, Garaj Mahal combines a century of musical experience to create a sound that's always new, freshly infused with a wide spectrum of musical expression, and always smoking hot.
Touring extensively since their formation in 2000, Garaj Mahal continues to earn critical acclaim and a growing fanbase thanks to their ability to deliver serious "shut-up-and-listen" grooves while simultaneously bringing the dance floor alive. Their collective musical experience allows them to constantly push the envelope of composition and improvisation. Garaj Mahal's sound – a convergence of jazz-style improvisation, mystical Middle-Eastern atmospheres, and danceable American funk - attracts music lovers from all parts of the spectrum and creates a profoundly unique experience.
Each band member dedicates every drop of his education, history, and life-long passion for music to their audience every time they step on stage. The band member's virtuosity is no surprise when you look at even a few of the amazing artists they've performed and/or recorded with over the years, including Dizzy Gillespie, John McLaughlin, Sting, Cassandra Wilson, Dave Holland, Bela Fleck, Chick Corea, Steve Smith, Zakir Hussain, Edgar Meyer, Les Claypool, Trey Anastasio, Umphrey's McGee, MMW, Steve Kimock, and Michael Manring. Garaj Mahal's output is the result of years spent honing their musical relationship on the road and following the band's return from an extended hiatus, Garaj is already accumulating rave reviews around the country.
Swindler
Swindler is leading the jamband scene in the Pacific Northwest with their unique brand of Psychedelic Funk. – Relix Magazine
Swindler produces a fresh and original sound that integrates funk, jazz and psychedelic rock into a masterful sonic tapestry. Their innovative approach makes each live experience compelling and unique. The band continues to expand an already rapidly growing fanbase with each show. Funk based grooves, tight melodic arrangements and strong instrumental improvisation all create a vibe that brings the dance floor alive.
Based in Seattle, they have toured extensively throughout the northwest and beyond. Swindler has shared the bill with numerous national touring acts and regional favorites such as Pigeons Playing Ping Pong, Pink Talking Fish, Yak Attack, Kung Fu, Jerry Joseph and many others. They were recently featured at the Summer Meltdown festival, 4 Peaks festival and Element Music festival where they drew rave reviews from fans and festival promoters alike. Swindler was also featured in Relix Magazine in 2018 on their new artist audio sample release.
Swindler is:
Rob Cochran: Bass
Willow Goodine: Keys
Chris Martin: Drums
Mike Saskor: Guitar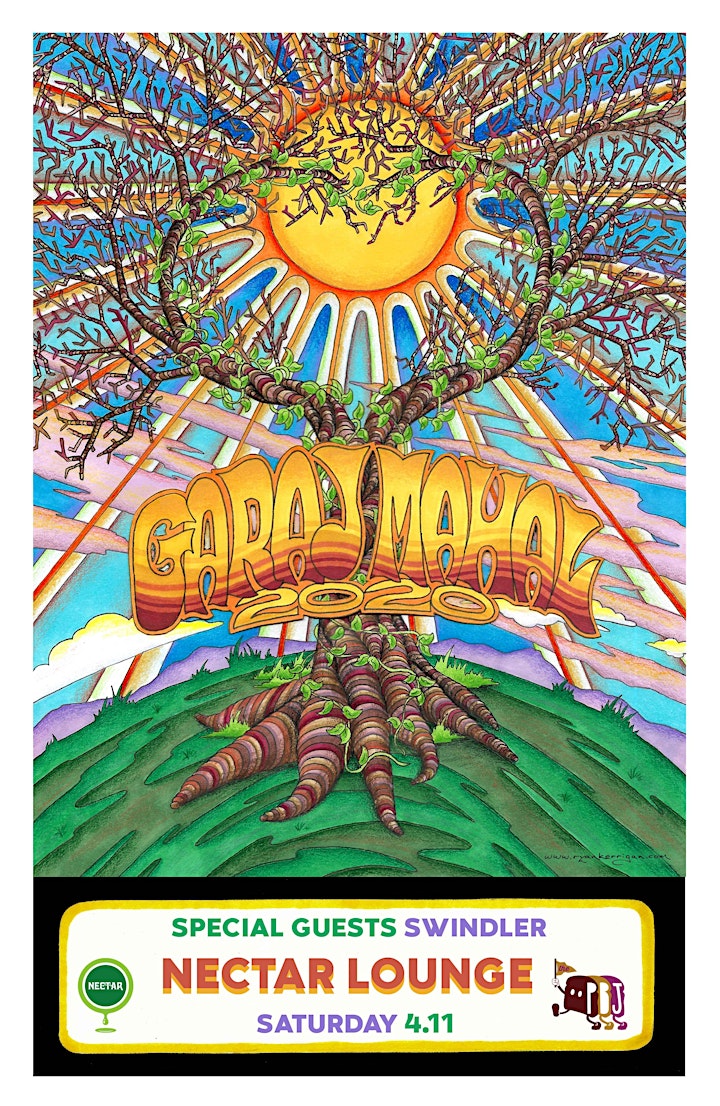 Venue Information:
Nectar Lounge
412 North 36th Street
Seattle, WA, 98103